5 High Potential LinkedIn Tactics We Used To Generate 50 Demos In Just 2 Months
In the world of B2B lead generation, nothing comes close to LinkedIn.
In October 2019, they reached the record figure of 1 billion monthly views for 610 million users. 40 million members are decision makers …
An impressive number … 80% of B2B leads come from LinkedIn and 46% of visits to business websites come from LinkedIn.
In other words, if you are in B2B and you are looking for as many prospects as possible, for your most profitable offers …
There is simply no better platform than LinkedIn.
What if you don't use it as your primary customer acquisition channel … You need to change NOW!
But … there is something strange about LinkedIn.
You'd think that with all of his data in the clear, his popularity would explode, but that doesn't seem to be the case.
How many active users on LinkedIn?
In early 2019, LinkedIn announced that 40% of its members visit the platform every day. A figure that may seem disproportionate compared to the official figures announced the previous year.
At the end of April 2017, LinkedIn had crossed the 500 million subscriber mark. On the other hand, the social network had not communicated on the number of active users. Remember that for most social networks, this is the most significant KPI. LinkedIn often downplays the importance of the number of users because it is relatively small. The last known figure corresponds to the 3rd quarter of 2016:
"LinkedIn welcomes 106 million users per month, or 23% of the total number of subscribers."
If this ratio remained unchanged, we can estimate the number of LinkedIn users at 116 million. Meanwhile, Facebook hosts 2.2 billion people each month, YouTube 1.8 billion and Instagram 1 billion …
Everyone was talking about LinkedIn a few years ago, but it doesn't seem like professionals are as enthusiastic about it as they used to be.
Take a look at this Google trend chart. It has been more than 10 years since the network exploded …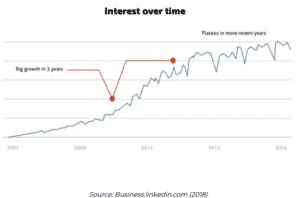 Why should you care? Because it represents a golden opportunity for you!
While "the herd" is caught in the buzz of advertisements (ads) on the most famous agencies (Google, Facebook, Taboola) in the race for lead generation, you can quietly (but quickly) grow and evolve your business and your sales using LinkedIn.
One stat: 16 million registered in France in 2017
In France, 16 million people are registered on LinkedIn (nearly half of the French working population). If the user / member ratio is the same in France as in the world, we can estimate at 3.7 million the number of people who use LinkedIn each month in France.
Don't make the mistake of getting caught up in the mass of marketers flocking to every trend (which will be LinkedIn in the next 3-5 years).
Solidify your position NOW and dominate your market before everyone finds out the gold mine is right in front of them.
"Okay, I know and use Linkedin – but what's the best way to use it to grow my business? How to generate more leads, appointments and sales with the platform? "
Glad you asked, let's see this now …
TABLE OF CONTENTS
In this guide, we'll cover 5 LinkedIn "KILLER" tactics that we used to generate 50 appointments and 13 closed deals in 2 months for our agency.
These are also the linkedin tactics we have used (and are currently using) to generate several hundred thousand dollars + in new business for ourselves and our clients in our first year of operation. So trust me when I say 'it works'.
They are listed sequentially, follow them one by one if you want to get similar results.
[Tactique # 1] – Profile overhaul – How to turn your profile into a high converting landing page
[Tactique # 2] – The "Perfect Prospects" list – How to create a list of thousands of laser targeted leads for less than $ 100
[Tactique # 3] – The login sequence – How to connect every day with 50 to 75 of your ideal customers without spending hours there
[Tactique # 4] – The content machine – How to create content that generates demand, thought leadership and a flood of inbound leads
[Tactique n ° 5] – The Appointment Generator – How to turn visitors into leads, appointments and high-priced sales opportunities through direct outreach
These 5 linkedin tactics will help any B2B product or service business that needs more high-value leads. Here are some industries with which we have seen incredible results for ourselves and our customers:
Marketing / Digital Agencies

SaaS, Tech B2B

IT / MSP

Consultants / coaches / training companies

HR / Recruitment

Guest speaker (events / podcasts / videos / interviews)
The success of these linkedin tactics is that you can replicate them within your sales team and turn them into a lead-generating army.
Before you begin, you should already have defined your target market and your Ideal Customer Profile (ICP).
[Tactique # 1] – Profile overhaul – How to turn your profile into a high converting landing page
Most people treat their LinkedIn profile like a CV.
If so too … you're doing it wrong!
Your profile is a key digital element that can generate a consistent flow of prospects for you organically, if you do it right.
Think of it more like a sales demo or a landing page / "digital flyer" rather than a resume.
Here are the 3 key areas to optimize:
Profile picture

Title

summary
There are a lot of other things you can optimize as well, but start with these 3 and you'll be 80-90% ahead of the competition.
1. Profile picture
Just in case … grainy photos, partying, or worse yet nothing at all … are NOT acceptable!
Your profile photo is the first impression we have of you. If you want to make a good impression, it's simple:
Get a crisp, professional photo and smile.
Here is mine: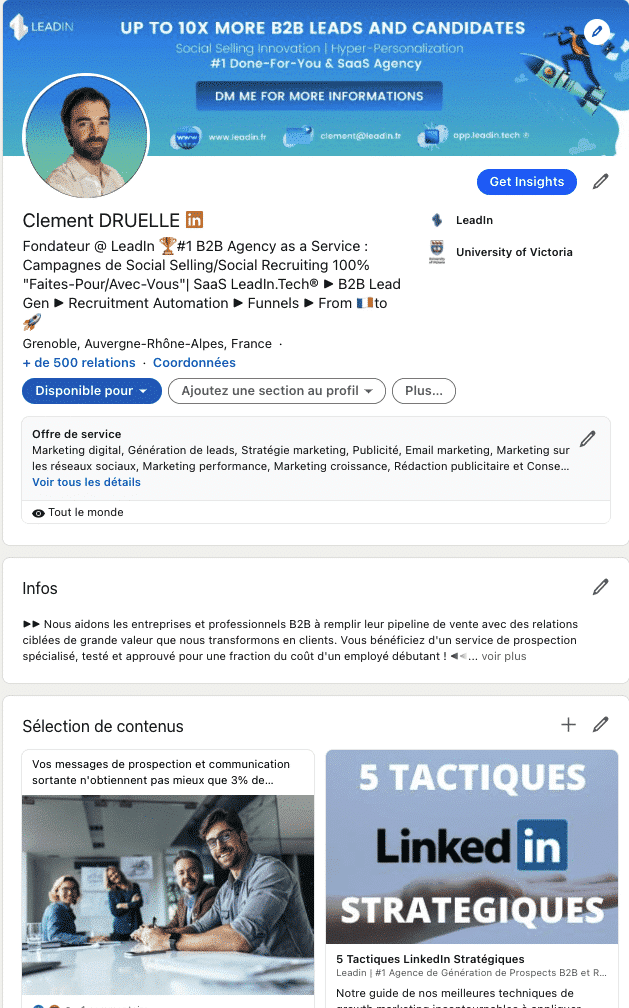 Your profile picture plays a major role in getting your prospects to click on the "Accept" button of your connection request.
2. Profile title
Does this sound like you?
"CEO / Founder of the best company | 27x winner | Innovator | Influencer"
You might want to consider making some changes.
Other examples of bad titles are:
President of …
VP / Vice-president of …
Director of…
Boss of …
The truth is, no one cares about you or your business. Your title should be customer-centric.
He must answer the question "what does this mean to me?"
What your prospect cares about is how you can help them, that's it.
There are many other areas in your profile where you can put your current job title.
… but if your goal is to generate leads organically from your profile, display your headline for your prospect.
Here are some simple frames to turn your headline into a powerful uplifting pitch:
For founders / owners / CEOs:
"I help / help / teach[marché / industrie cible] at[la valeur / la solution que vous fournissez] by / using / by[comment vous le faites] "
For sales representatives / Biz Dev or those representing a company:
" We help[marché / industrie cible] at[valeur / solution que vous fournissez] by / using / by[comment vous le faites] "
If there is enough room at the end, you can add your title and company.
Here is my example:
"Helping Start-Ups, Saas, ESN & Agencies Get Sales Meetings With Their Ideal Clients | Founder @ LeadIn"
You know the target I serve (B2B), the problem I solve (generation of leads and customers) and how I solve it (LinkedIn + sales funnels … cold emailing).
Your login acceptance rate will be based solely on whether your prospect looks at your profile and thinks "this person can help me."
3. Profile summary
Most people treat their resume like a resume or speak for themselves in the third person (terrible!).
Your profile summary should read like a "soft-pitch" for you and what you do, while staying focused on your KPI and ideal prospects.
It should cover the following points:
Who you serve
What problems do you solve
How do you solve them
Your legitimacy
Next Steps / Call to Action
Resist the urge to list your accomplishments and experiences here. All that's going to happen is scare your visitors away.
Here is my profile summary: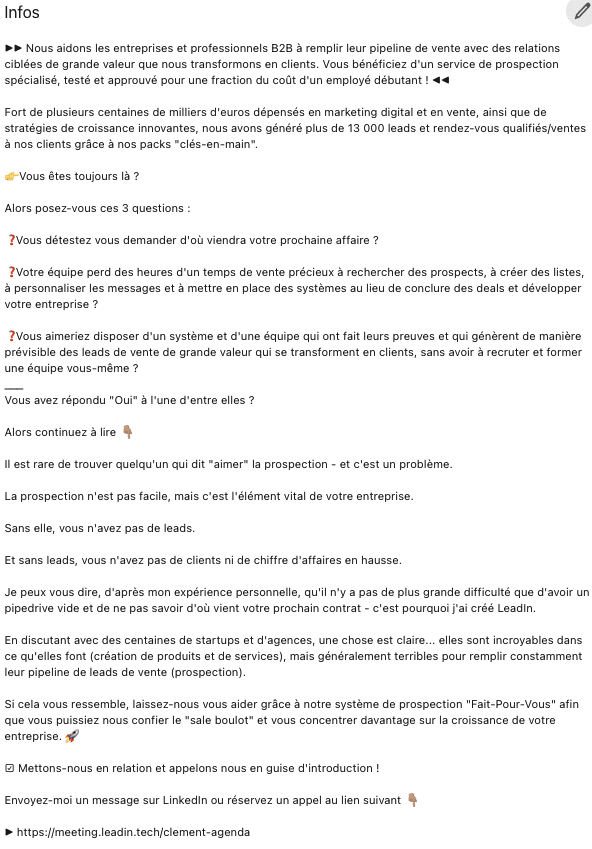 By reading this you know exactly what I do, who I serve, how I serve them, and how to get in touch with me.
My profile receives around 200 organic views per week. This means that 200 of my ideal clients see my profile summary every week!
For context – LinkedIn ads cost an average of around $ 8 cost per click, which means I'm potentially saving $ 6,000 to $ 7,000 per month in ad spend.
If you need inspiration for your profile summary, the LinkedIn blog has some good examples here:
https://business.linkedin.com/talent-solutions/blog/linkedin-best-practices/2016/7-linkedin-profile-summaries-that-we-love-and-how-to-boost-your-own
Remember – don't be selfish. Your profile must be CUSTOMER CENTERED! For those who want more details, find my article " How to optimize your linkedin profile? "
[Tactique # 2] – The "Perfect Prospect" list – How to create a list of thousands of ultra targeted leads for less than 100 €
Here's where the fun begins.
You will begin to see how powerful LinkedIn is in finding virtually any decision maker in any business that you want to contact.
Quick warning though – if you're not technical, this tactic can frustrate you. Just follow the step by step instructions and you will be fine.
Once your profile is optimized for your PKI, it's time to build a list of your perfect prospects.
For this tactic, you will need 2 tools that cost less than $ 100 / month.
The 2 tools are:
Sales Navigator (75 € / month)
Phantombuster (free or paid plan depending on daily volume)
Here are the steps to building a list of thousands of targeted "perfect prospects" each month.
Step 1: Create a List of Targeted Prospects Using LinkedIn Sales Navigator
Go to Sales Navigator
Click on "Advanced" at the top right, then on "Find prospects"
Use your ICP and Sales Navigator filters to create a list of 500 to 1,000 targeted prospects. Sales Navigator only loads pages for 1,000 results on each search, so keep filtering until you get there
If you trust LinkedIn's ability to find your exact leads (note: it's not 100% accurate), you can copy the Sales Navigator lead search URL and move on to the next step.
If you don't trust LinkedIn to generate the perfect lead list, you can manually browse and tag the right leads and / or "save as a lead". From there you copy the Sales Navigator prospect search URL and go to the next step
NOTE: Click "Save Search" at the top right of Sales Navigator for future reference.
Here's an example targeting B2B SaaS founders in CA, WA, NV, OR (USA), employee size 11-50, and 2nd degree connections.
Step 2: Upload Search Results from Sales Navigator to CSV
Copy the URL of your saved Sales Navigator prospect list
Go to Phantombuster.com and create an account
Go to the API and search "LinkedIn Sales Navigator Search Export"
Follow the instructions on the page to export your lead search to a CSV
Once done, import the CSV into Google Sheets
Step 3: Generate the official LinkedIn URL (instead of the Sales Navigator URL)
Return to Phantombuster.com
Go to the API and select "Sales Navigator URL Converter"
Follow the instructions and drop your Google excel sheet ID from the previous step into the API
Click the three dots next to "Launch"
Once done, you will get a separate CSV which will include the URL of the official LinkedIn profile of your prospect list.
Step 4: Consolidate the data into a single worksheet
Take the Phantombuster LinkedIn profile URLs and replace the Sales Navigator profile links from your original Google excel sheet
The main final columns that you will need for the next step are:
– First name
– Last name
– Company Name
– LinkedIn URL
If you've done the steps right (and your head hasn't exploded!), You should now have an ultra-targeted list of your ideal prospects that match your exact KPI – and a process you can repeat for under $ 100. € / month.
Keep this list close, we'll use it for the next tactic where you can connect with 50-75 of those ideal prospects every day, in a fully outsourced fashion.
[Tactique # 3] – Connection sequence – How to connect daily with 50-75 of your ideal clients on demand
Now that you have your list of perfect prospects, we're going to use them to connect you with 50-75 of them every day without you spending hours on them.
There are many tool options for sequencing LinkedIn, but here are 2 of them:
Dux Soup, LinkedHelper, Prospectin (15 € / month, but LinkedIn is cracking down hard against chrome extensions by banning users from the network for life)
Orca (69 € / month, but safer than Dux Soup because it is not an extension)
Just make sure it has the option to download a list of LinkedIn URLs to log in and view profiles.
Before we begin, there is a disclaimer I need to issue.
LinkedIn disclaimer
Be careful when over-using LinkedIn! If you have too much activity (profile visits, connection requests, connection refusals, pending connections, messages, etc.), your account may be suspended or permanently banned in some cases.
Conclusion: don't be greedy, don't push it to the limit and don't be a spammer!
My rule of thumb is not to exceed 75 connection requests in a 24 hour period, not to exceed 1000 pending connection requests at any time (you can withdraw them), and not to visit more than 200 profiles in one day.
I am NOT a LinkedIn moderator or administrator, these are just my conservative estimates. I am NOT responsible if you lose your account while trying anything mentioned in this guide.
If you're not comfortable with automation, perform this tactic manually.
You have been warned. Pay attention!
Cool?
Okay … let's continue.
For this guide, we'll be using Orca in the examples.
Step 1: Create a Campaign Using Your List of Perfect Prospects
Go to Orca and "Create Campaign" (tag it according to your KPI, for example: "B2B SaaS Founders | 11-50 | WA, OR, CA, NV")
Click on "Download a CSV of LinkedIn profiles"
Find your perfect prospect list and upload it
Step 2: Configure your campaign sequence
We like to do a profile visit as the first step, a login message as the second step, and a follow-up message when they accept the third step
Your login message should be specific to your PKI and / or their job title, and the follow-up message is to thank them, NOT introduce them
Ex. Connection: "Hello[nom] , I'm trying to connect with[titre du poste] in industry[de leur marché] . Would you like the opportunity to connect with us and share ideas if you are open to it?
Example follow-up: "Thank you for accepting my connection request[nom] . Looking forward to hearing more about you and your[entreprise] "
Step 3: activate the campaign
Once you have configured your sequence, select the days you want to run it and activate it
Boom! Now you have a way to connect with 50-75 of your perfect prospects everyday without doing it yourself.
But … what do you do once they are part of your network?
Let's talk about that in the next tactic …
[Tactique # 4] – The content machine – How to create content that generates demand, leadership and a flood of inbound leads
One of the most important Linkedin tactics because having a large network of connections is useless unless you have a way to turn them into interested leads. One of the best ways to do this is through content marketing and inbound conversation. By creating a "content machine", you will have a means of generating demand, thought leadership, and inbound leads. You will gain credibility and confidence, gain new connections and beat your competition by keeping your number 1 spot with your audience.
There are countless types of content you can post, but keeping it simple with a mix of these 3 has been effective:
Content relevant to your PKI
Abbreviated Status Updates
Detailed status updates
Let's take a look at each of them now.
Content relevant to your PKI
Organized content can be in the form of images, videos, articles, etc. created by other companies that target your audience but are not direct competitors.
You can use these 2 free tools to help automate this part:
Feedly (automate the sourcing of new articles of interest)
Hootsuite (automate article posting)
Follow these steps to find curated content relevant to your audience.
Make a list of 5-10 of the best influencers, blogs, websites, etc. that your audience follows
Create a free Feedly account and find the sources in your list. This will give you a feed of all new content from these sources every day.
Pick once a week on a day where you'll spend 1-2 hours finding the best content from these feed sources and uploading it to Hootsuite for automatic posting.
With each post, add a short blurb with your thoughts or a question to engage your audience.
Note: Curated content won't get the most engagement or views, but you will start to build your top credibility, trust, and awareness with your audience by posting content that is useful to them.
2. Abbreviated status updates
Remember the first time Facebook business pages came out, where each post reached 50-75% of your entire audience? This is where LinkedIn is currently located, and by posting 2-3 abbreviated status updates per week, you can generate a massive amount of organic views, even with a smaller network. The point of these posts is not to go viral, but to engage and stay in front of your audience at all times. That said, some posts will go viral if you post solid content.
I use these 3 formats for my abbreviated status updates:
at. Questions
Questions are a great way to engage your relationships while getting them to do the heavy lifting for you. When someone likes or comments on your post, it becomes visible on their network even if you are not connected. This can cause a ripple effect with thousands of extra eyeballs on your messages and many new connections being acquired without you reaching out.
b. Sharing opinions / advice
It could be your thoughts / opinions on a certain topic or quick tips. The key is to keep it relevant to your audience while still making it interesting enough to engage you. You can shuffle the questions at the end if you want a better chance of engaging your audience.
vs. Short native LinkedIn video
Native video is starting to take off on LinkedIn and you can get an incredible amount of engagement if you do it right. Short videos of 1 to 2 minutes that are relevant and useful to your audience work best. Also add a text description to your post to increase engagement. The key here is to KNOW your audience. Don't just randomly post selfies and talking heads videos.
Ex: My audience responds well to tactics, so I created videos and posts with actionable B2B sales and marketing tactics.
d. Detailed status updates
It's basically the same as shortened status updates, just longer and extended. Personal stories and experiences related to your target market are a great choice.
Posting schedule:
I recommend posting at least 2-3 times per week using a mix of curated content, short and long status updates. If you have around 3000 connections. With over 1,000 views on each post, that means each post is seen by around 35-50% + of your audience. If you've optimized your profile in Tactic # 2, around 8-10% of people who view your post will click on your profile. In my case, that means around 2-300 profile views each week.
Would it help you if 2 to 300 of your ideal clients check your profile every week, interested in finding out more about what you do?
[Tactique # 5] – The Appointment Generator – How to turn leads into leads, appointments and high-priced sales opportunities
In this tactic, you will learn how to turn your relationships into leads and interested dates using direct messaging. Most people are afraid of this step, but if you've done Tactics 1-4 correctly, you'll be ready to communicate successfully.
Let's review what you've done so far:
You turned your LinkedIn profile into a high converting landing page
You've Built a Laser Targeted List of 500-1000, Your Perfect Ideal Leads
You have activated your sequence which connects to 50-75 of your perfect prospects every day without you taking care of it manually
You've created a calendar and content machine that builds your leadership, generates demand, and gets you a flood of inbound leads.
All you have to do is systematically reach out to your contacts, bring the conversation to an offline meeting.
None of this is required, but if you want a predictable pipeline and lead flow instead of sitting around waiting for people to contact you, this step is important.
Let's go now …
Step 1: Export your leads to a Google Excel sheet
Click on "My network"
Click on the number above "Connections" on the left side
Click on "Managed Synchronized and Imported Contacts" on the right side
Click on "Export contacts"
Check the box next to "Connections"
You will receive a CSV download in 5-10 minutes with all the data of your connections

Step 2: clean up your data
Remove any irrelevant friends, family, or connections that aren't your perfect prospects from your list
Create a separate tab for campaign tracking with header columns for first name, last name, company, title, LinkedIn profile and to track posts 1, 2 and 3
Step 3: Create your email sequence
We like to use a simple framework from the following 3.
Message 1: Provide value – provide value in the form of content or solution
Message 2: Ask – ask if it makes sense to take the conversation offline
Message 3: Follow-up – follow up on your request to see if they are interested
Step 4: Segment Your List and Send Your Mail Sequence
Segment your list according to the volume of messaging you want (not to exceed 50 / day)
Ex: if you have 100 connections, you can divide into 2 groups
Start with message 1 and send to your connections segment
Use the campaign follow-up sheet to mark prospects that you have message 1
Copy each prospect's email URL into your tracking sheet for easy access while following up
Step 5: send follow-up messages
Send messages 2 and 3 as follow-ups, spaced 1 to 2 weeks apart
Plan all interested leads in an appointment
If you have your detailed PKI and appropriate messaging, you can expect an 8-10% positive response rate. This means that if you have 100 contacts, 8-10 of them will be interested in meeting with you or your sales team. What would 8 more appointments per month with qualified and ideal prospects mean to you?
Let's do some quick math to find out …
THE KING FORMULA
Conversion rate * Customer lifetime value = Lead value
Before I close things off, I want you to do the ROI formula yourself so you can figure out how much these tactics could do for you.
Take the example of the 8 appointments per month above, direct mail delivery only.
Our agency closing rate is around 30% and the client's lifetime value is € 25,000.
For our formula, that would mean ..
30% * € 25,000 = € 7,500 lead value
This means that EACH LEAD should be considered worth € 7,500.
With 8 prospects / appointments per month, this means that we generate € 60,000 in prospects each month.
Do the math using your own numbers and you'll see how much of a game-changer this can be for your business.
5 key points to remember to generate 50 meetings and 13 closed offers in 2 months with these LinkedIn tactics
When it comes to generating high-value B2B leads, appointments, and sales opportunities – LinkedIn should be the # 1 platform you're looking for.
These are exactly the 5 linkedin tactics that we used to generate 50 appointments and 13 closed offers in 2 months. We continue to use them …
Now that I've raised the curtain and shown you how to do the same, it's time for you to take action and test it for yourself:
A recap and 5 key takeaways from the linkedin tactics we've covered:
Optimize your LinkedIn profile by starting with your profile picture, title, and summary. It should serve as a customer-centric landing page, not a resume.
Take advantage of Sales Navigator's ability to filter your exact PKI. You can create lists of 1000 of your "perfect prospects" each month for less than $ 100.
Sequence the connection process with 50 to 75 of your perfect prospects every day with a tool like Dux Soup, LinkedHelper, Prospectin or Orca. Be careful with automation.
Build your confidence, credibility, and leadership by posting helpful curated content, abbreviated status updates, and lengthy status updates. This will result in inbound prospects contacting you.
Turn connections into meaningful leads, appointments and sales opportunities using a "multi-point" contact messaging campaign. Use a simple Google sheet like this one to track your campaign.
NEXT STEPS
Congratulations on making it this far. Most people won't! You now have an incredibly powerful system for LinkedIn to generate leads at will.
Make good use of it!
What to do next :
Make sure we are logged in on LinkedIn
Need help implementing these tactics for you? Click on the button at the bottom of this page to book a strategic call with our teams.