It is no secret that the concept of social proof is an essential lever to develop its activity and its commercial prospection. Whether through direct sales processes, via radio, TV advertising and especially via digital channels, social proof, if used well, can be a major asset to convince your prospects.
Your website, your communication on social networks, your emailings, your internet prospecting must include social proof to perform at best.
Yes but what is social proof?
Social proof is a principle of social psychology . According to this principle, an individual not knowing what to do or what to think on a particular subject, will tend to adopt the behavior or the opinion of others. It looks a bit like the sheep effect, I'll grant you that.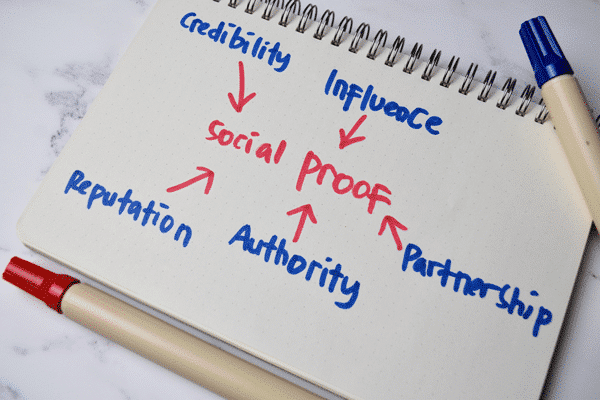 The principle of prospecting and therefore direct sales or even via social networks is based on social proof. A classic acquisition channel social proof outcome is the recommendation of a business, product or service from a person to their network. By sharing his knowledge, his opinion and his feelings about this product or service, the issuing person will without necessarily knowing it influence opinion of his audience.
You will understand, all comments about you, your brand, your business are considered social proof. These represent approvals claiming that you provide products or services of quality as well as the customer journey has been satisfactory . The presence of strong social proof on its brand, its products or services gives credibility to your company and your offer. She is a pledge of confidence because it does not come directly from you but from external people to your business because they are your customers! This persuasive tool, which is notably one of the 6 principles highlighted in the book " Influence and Manipulation "by Robert Cialdini, allows companies to benefit from external validation in order to influence potential buyers. (Which I invite you to read elsewhere ..)
Its importance in its B2B prospecting
Let us come back to the desire to belong, this phenomenon is described as "a fundamental human motivation", a key factor which conditions everything we do and do. Create this sense of belonging with your physical or virtual audience is a central element that will lean in your favor when closing a deal.
A variety of tools and resources allow you to develop this feeling of belonging with others. Even without a direct message or interaction, feeling like you are part of a community strengthens a person's trust in this area, for us your company or your brand image.
Therefore, when a person sees other people interested in a product or service, that person will be more inclined to also consume . This passage to action is synonymous acquisition of a feeling a greater connection with people who share similar interests / values / desires.
Your customers are looking for transparency
Nowadays, in a society where there is a lot of "fake", overplay and increased exaggeration, people and more particularly your prospects are looking for transparency quality during their business interactions.
"In all industries, transparency has never been more important to the success of a business model. Retention or reshaping of information is no longer a viable option for this new era of consumers who are more savvy than any other generation and for whom skepticism seems to be a default setting. To build brand loyalty, companies must first create a climate of trust. "Robert Craven, author of" Bright Marketing "
It's exactly the form of social proof that we find in testimonials and customer reviews, the fact of showing a desire for transparency of the company via its real customers according to their experiences with a product, service, their opinion and especially without marketing artifices of the company.
Get into story telling
Telling a story has long been considered one of the best forms of marketing because in all areas of your life you are consuming or telling stories. As a result, a story told in multiple formats can better engage people's brains by helping to process information as well as imaging and visualizing this story.
It's through collecting individual stories from your customers about how your service or product has helped them meet their need that you will bond emotionally allowing you to attract other potential customers. People of a general nature are curious, so the more personalized and well-told these experiences, the more attractive they will be to your target audience.
Play on the FOMO
FoMo, acronym for English " fear of missing out "Represents social anxiety illustrated by the constant fear of miss an important news giving an opportunity to interact socially or to develop this feeling of belonging.
This fear has a powerful influence on human beings, whether we are aware of it or not, social networks have amplified this phenomenon! Men don't want to be left on the sidelines, they don't want to miss out on a new product or participate in an experience that everyone seems to enjoy.
This strengthens the power of customer reviews and testimonials , the more a product receives favorable reviews and testimonials, the more attractive it becomes. It is a snowball effect that amplifies the confidence of customers and your prospects. In short, more positive reviews translate into more social proof and therefore increased chance of taking action .
Now let's take a look at some examples of social proof that you can and I would even say should use in your B2B marketing and prospecting strategy.
Some examples of social proof
The goal with using this process is to increase the perception of value of your brand, your products or your services in order to improve your sales potential.
Indeed, social proof will boost the confidence of other consumers. Buyers feel much more reassured when they consume a service or buy a product online, for example, if they know that other customers have come before them and that they have had a positive experience.
Here are the examples most used by companies to integrate social proof into their customer journey:
Customers' opinion via for example the google notes on your company or Trustpilot as below with the opinion of a current customer of LeadIn.
We find the trust labels strengthening your professionalism and the credibility of your product / service
The customer testimonials , similar to customer reviews, often these are used on websites to gain the trust of the audience. You can also, I would even say that you have to ask your customers for feedback, first to see what could be improved and also to convince other customers! Of course, you have to ask their permission to use this on your social networks, emails or website. The ideal is to also have a photo to allow your prospects to identify themselves more. It all depends on your profession, but to make your sales process even more human, ask for video customer feedback, it's a social proof persuasion very powerful and far too little used in my opinion. Especially since these tools allow you to also develop your story telling via engaging stories.
The media presence , it's no secret, you are going to reach a larger audience and it all depends on the caliber of the media, but it will once again strengthen your brand image.
The use of "influencers" : Emerging movement with social networks, it consists of asking influencers to highlight your brand, product or service via an advertisement, post, photo or video to its community in order to obtain other customers through the emotional side. (A hit with the products, especially on Instagram)
The customer case studies : With this example, you provide your audience with a concrete case of solving a customer problem. What more could you ask for? Prospects could identify with these case studies and therefore take the plunge more easily.
Likes, comments, shares … in short all social media interactions , I will go even further by going as far as creating your own community by developing your Social Selling. I go further on this subject in " How to measure the performance of your Social Selling strategy? "
The importance of maximizing social proof on LinkedIn
According to LinkedIn , people who note at least 5 skills in their profile are likely to receive 17x more views !
It would be a shame not to take advantage of it by putting all the odds in your favor, wouldn't it? The recommendations and " endorsements Help ensure that your profile is more likely to be discovered by the search function.
It's a great thing to gain visibility on the platform organically, these sections boosting your credibility as a social proof .
Getting recommendations couldn't be simpler, so here are some tips to keep in mind when asking people to recommend your LinkedIn profile:
Contact us your acquaintances and colleagues. They will be more likely to support your skills.
Personalize your requests for messages, indicating for each of them a specific project on which you have worked with this person.
Do it back ! Let them know that you are developing your profile and that a referral exchange would be beneficial both ways.
At this stage, the more, the better! Give LinkedIn "what they want", they will help you in return with a naturally boosted visibility .
You will have understood it, whether in your marketing strategy or B2B prospecting via different channels, especially on LinkedIn or via mailing, developing your Story Telling and placing elements of social proof will contribute to the design of a strong brand image that is appreciated by your community.
Social proof is part of a set of tools to use in its B2B prospecting on LinkedIn. However, for optimal results, you should mix the use of social proof with other key factors to start or improve your prospecting on LinkedIn. I've written a 100% free resource on this, it's called the " Complete Guide to B2B Acquisition on LinkedIn in 2022 ". After reading this, you will have all the basics to start B2B prospecting on LinkedIn in 2022.
You may also be interested in these articles