LinkedIn prospecting, how to have a good ROI?
In B2B, the business development represents a strategic issue for the business development . For a few years now, the social network LinkedIn has established itself as an essential prospecting channel to develop its activity. In this article you will find how to best use it for generate your future leads and customers .
Commercial prospecting is essential for the development of a B2B business. Different acquisition channels are used, telephone prospecting (less and less), via mailing .. but one channel has stood out in recent years, that of social networks and more specifically LinkedIn . This new channel has of course turned the game upside down for salespeople who have had to adapt and review the way they interact with their prospects and customers.
This article is intended to introduce you to LinkedIn and all possibilities that this network offers for salespeople ! Before moving on to the guide detailing our strategy for generating leads on LinkedIn in 2021, we will first lay the foundations. Here is the order we will follow:
LinkedIn, what is it?
The basics of prospecting (To know)
What not to do when prospecting on LinkedIn
Set acquisition goals via LinkedIn
The Ultimate Guide to How to Prospect on LinkedIn in 2021
When we talk about social networks, we think directly of the one who made them very famous, of course. Facebook , used to share photos or write to loved ones. However, in recent years a full-fledged social network, dedicated to workplace has grown to the point of becoming an acquisition channel widely used by salespeople.
Yes we are talking about LinkedIn, but what is its difference with other social networks like Facebook or Twitter?
Unlike these networks, on LinkedIn we talk about " network "and not" friends ", they do not want to see your latest vacation photos but want professional content with high added value.
In 2021, LinkedIn is the 6th social network with the most active number of members. It gathers 756 million members around the world and more than 22 million in France . (That is more than 65% of the working population, source: Digimind Blog )
Not convinced ?
According to Hubspot , one of the most used CRMs in the world, LinkedIn is 277% more efficient in lead generation than Facebook and Twitter.
In addition, many companies agree that approximately 80-85% of their leads via social media come from LinkedIn.
Aberrant figures, do we agree? This opportunity shouldn't be missed far too often underexploited by some sales people . How to go about it ? How not to make an effort and invest time in a vacuum and obtain real results? Don't panic, we will deal with this subject together throughout this article.
Before going any further, if you are still not convinced by the power of social networks to develop your professional network and prospect. I invite you to read our article on which social networks to choose to develop your B2B acquisition strategy?
Preparing the ground for effective prospecting on LinkedIn
Optimize your LinkedIn profile
As with any action that we put in place, before launching we must preparing a solid foundation . As with every social network, the first point to work on is its profile as well as its company page for the bosses. In order to to attract visitors above or when your prospects will see your page, they must understand quickly what you are doing and that you are the right fit. So let's start with optimize your LinkedIn profile to prospect on LinkedIn effectively.
First, as the visual prime and no we are not on Facebook! So no profile picture with your best trip or your pet! You wish send a good message , so you need a professional photo that makes you want to get in touch with you. A photo of you smiling on a neutral or solid background is simple and effective.
Another visual effect, the cover photo or banner is not to be neglected either! It also counts in the image, the universe to which you belong and which you want to make your contacts feel. The purpose of this photo, it must be in accordance with your activity and the image you want to convey.
Then the Title of your profile ! This is one of the most important elements, located below your Name / First name, it represents what you really do ! It is better not to put its function which is not very evocative but more what you do!
Here is the example of my LinkedIn profile.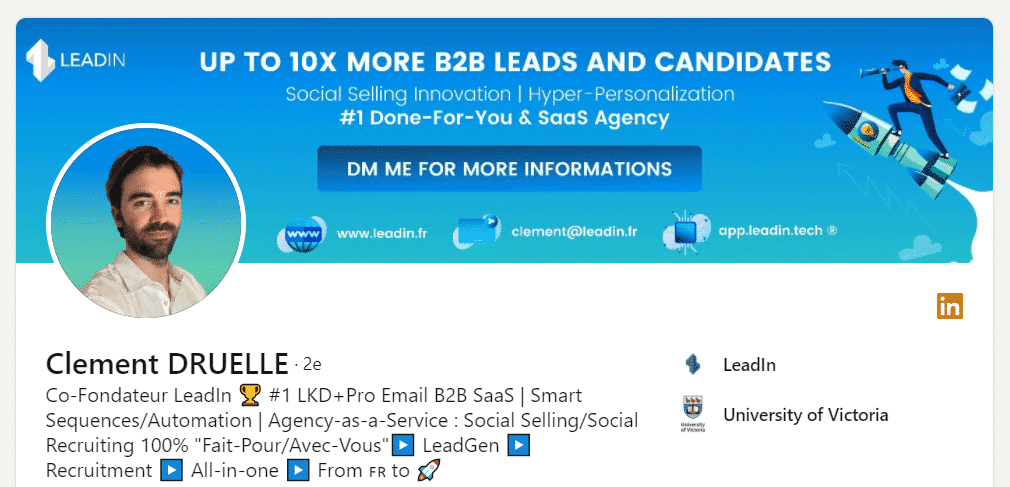 You still have to modify your URL, add "your story" in the info section, your professional experiences or your recommendations. I detail all these points in how to optimize your LinkedIn profile ?
Increase your visibility thanks to quality content
Reminder of the objectives: Get more leads for more customers ! To do this, you have to make yourself known and therefore increase your visibility on this network.
As in all digital marketing strategies, the content is ROI . It can come in different forms, written posts, LinkedIn article or video post.
You can post from content on different topics , however, do not stray (too) from your brand image, your company, your values, your sector of activity and finally your objective which is to establish new new relationships to find future customers on LinkedIn.
You already have a lot of content in Inbound marketing to share, that's fine, but don't forget one thing, LinkedIn's algorithm favors content that says " native "that is to say those which do not remove the users from the network. (No external link on LinkedIn)
Quality reigns
As usual, there is no point in posting for the sake of posting!
The goal is to seduce your audience , to make them feel emotions, you will not reach them with generic content, the worse you will scare them away! It is necessary that people follow you for your values, your quality content, that they learn things about your / their activities, trades!
Some examples of quality content ideas :
Announce your presence at events via a short post or video
Write your own articles on your activity
Give advice, explain what works and what doesn't for you
Tell your business news like a "story"
Give your envy on news on your sector of activity, always respecting your convictions!
Interact with your contacts
As on all social networks, these are virtual places of sharing and interactions ! LinkedIn's algorithm takes this criterion into account to calculate your SSI ( Social Selling Index )
In addition to appealing to the LinkedIn algo, it has other advantages :
Highlight the content of other people among your contacts via shares or comments (always be careful of quality content) strengthen your brand image .
Demonstrates itself your curious and engaged side in your business! That you are proactive, it always sends a good message to your contacts.
This allows to interact and share valuable content to your colleagues, contacts via the "tag" or "liker" and comment on posts from members of your network in order to put them forward.
Finally, this allows you to always find new prospects related to your activity!
There you have it, the basics to increase your visibility on LinkedIn, to go further, you will find an article dedicated to Social Selling .
Set acquisition goals via LinkedIn
Above, when we said that the content was ROI, we also talk about KING (Return on investment) therefore revenue generated by your customers via LinkedIn .
To measure this, it is necessary to define quantified objectives and SMART .
Easy ! It suffices to measure the effectiveness of a salesperson with the following objective " Get 5 phone meetings per day via LinkedIn ". Yes it's good, it's a very good qualitative objective to measure demo or phone meetings, however LinkedIn works differently.
Here, to please the LinkedIn algorithm and also your contacts! (Yes, again)
We are going to set up KPIs ( Performance indicators ) more related to LinkedIn:
Send X targeted invitations per day to increase the size of your network (Pay attention to the new limit of 100 invitations per week on LinkedIn , focus on quality over quantity! )
Publish X short posts per week
Publish X LinkedIn article per week
Interact (Like, comment, share) at least once a day.
Engage X private conversations per day with your prospects
For your prospecting messages, find here 3 tips for writing an effective cold prospecting message .
Your final goal of course remains your demo or phone appointment, these steps represent the key elements to be put in place to achieve this objective .
This monitoring will make it possible to assess overall progress of your commercial actions on LinkedIn.
We are almost there, we have optimized our profile, thought of a first content strategy and defined our first objectives, we now need to launch! To help you, you will find below the prospecting strategy that we have put in place at LeadIn. ( +400 demos reserved with 55% general acceptance rate )
LinkedIn 2021 Guide – Step 2: Write a cold approach post that receives responses.
The three most common mistakes that drop the response rate on LinkedIn:
Vague messages: Avoid vague industry words (maximize, end to end, save time…) and speak to a specific niche, so you can use insider lingo that prospects actually use. Downward nesting massively increases response rates.
Too long: Anything over 5-6 sentences tends to be skimmed on LinkedIn, especially when viewed on your mobile. Tell your potential client how you can improve their life in a few words. Many of our top performing posts are 1 to 3 sentences long.
No social proof: The first instinct of a prospect is not to believe you. It is therefore essential to quote important clients, state specific results you have achieved or show real case studies.
Leadin writes and then delivers for you thousands of message sequences that are clear, conversational, and focused on value for your prospect towards generating high-potential conversations that trigger sales calls.
LinkedIn 2021 Guide – Step 3: Extending LinkedIn Outreach Messages
Here's how our message sequences work:
LeadIn writes message sequences that are clear, conversational, and focused on value for your prospect.
Free outreach "InMails" messages sent to open profiles

Connection requests with personalized messages

Follow-up messages and reminders in 4 to 5 keys
Once connected to you, a prospect becomes a first degree connection, and is in your network forever! You nurture these prospects with follow-ups, reminders and content.
Leadin sends 2-5 follow-up messages to your prospects, so we can deliver more value to them in the order they qualify. For example, Touchpoint 3 is often a case study, proving your results.
Open InMails
Very few people know that some LinkedIn profiles, called open profiles, allow you to bypass the login request and send them a free InMail, without using InMail credit. Leadin intelligently filters these profiles and messages are sent to them accordingly.
LinkedIn Guide 2021 – Step 4: Respond to prospects and schedule call appointments
You will receive an email notification for every response you receive, in addition to a customer dashboard automatically configured for you to track business opportunities, for easy upload to your CRM and for streamlined lead tracking. More opportunities = more income!
Are you ready to book more sales meetings and increase your income in a predictable way?
LinkedIn 100% "Made-For-You"
Social prospecting done well on LinkedIn is personalized and tailored. The "bulk" of the work done upstream (optimizing your profile + targeting according to your customer avatar) will open up specific niches of potential customers, and we will write messages for you that will directly address this audience. For example, we could create a list in the construction sector, but go a little further and target only people with the job titles TCE or QSE Manager, which are specific functions in this ecosystem. In doing so, we will be able to talk about the "sensitive points" with which these people are confronted, which gives the messages a natural and singular aspect essential to the creation of exchange and social link in B2B.
Once you've selected the niche and audience, the key is to send as many messages as possible to your ideal decision makers! The 100% "made-for-you" work of Leadin will save you hours a day of manual research, clicks, cold prospecting and follow-up, centrally receiving all of your new business opportunities directly.
LinkedIn is the world's leading B2B business network and the premier channel used by B2B marketers to distribute content, 94% of them posting on LinkedIn. If you aren't leveraging LinkedIn for marketing, you're missing out on some definite sales.
LinkedIn has over 500 million members, of which 61 million are very active influencers.
LinkedIn represents more than 50% of all social traffic B2B websites and blogs. Studies show sales reps with high social media activity get 45% more sales opportunities and have 51% more chance reach their sales quota.
Once you've selected the niche and audience, the key is to send as many messages as possible to your ideal decision makers! The 100% "made-for-you" work of Leadin will save you hours a day of manual research, clicks, cold prospecting and follow-up, centrally receiving all of your new business opportunities directly.
Social selling on LinkedIn
Social selling is the process of building relationships with prospects through valuable content, relevant delivery, and consistent follow-up on professional social media. Here are just a few of the many aspects of social selling on LinkedIn that we can help you with:
Create links

Direct messaging for real conversations

Content (by posting your own and engaging niches)

Ask for recommendations

Reach potential partners

Search for prospects using their LinkedIn profile

Creating a LinkedIn profile optimized for sales
Why choose LeadIn to sell on LinkedIn?
Our LinkedIn sales team has launched thousands of campaigns for over 100 active customers, which has enabled us to analyze massive amounts of performance data, making us experts! Once you have indicated to us the types of clients you wish to work with and that you have completed our questionnaire, we use all the essential levers at our disposal to allow you to optimize your profile, target, send messages and successfully broadcast them to fill your calendar with new appointments and business opportunities.
Our proven LinkedIn prospecting process
Based on your criteria, we craft messages that are specific to the business you want to turn into a customer, and that use your business tone and brand identity. Then we follow up with them 4 or more times when needed, so they know you are reliable and persistent!
On average, Leadin customers have between 25 and 75 new conversations with their ideal buyers per month per 1,000+ engaged prospects. It is also 2% to 5% of sales appointments directly generated in your calendar, in order to allow you to directly transform market opportunities into new paying customers.
Are you ready to have a full pipeline of LinkedIn sales opportunities?
Get ready for Leadin to generate a large number of leads for you on LinkedIn that are a perfect match for your business needs. We will find growth opportunities for you and extend the reach of your business directly from our proprietary cloud solution.
Our proven lead generation strategies on LinkedIn have generated over $ 25 million in new sales opportunities, over $ 12 million in new revenue and over 12,000 leads for our clients. From just 497 euros per month, we will provide a predictable increase in the income of your business in a 100% "Made-For-You" manner! Take advantage of it, Leadin is also 100% guaranteed satisfied or refunded, always without commitment.