We make sure that your emails are 100% valid and delivered
Find the professional emails of your prospects, with or without being connected with them on LinkedIn, and without the use of a third-party tool thanks to our function of discovery & verification of professional emails in real time.
Discover the professional emails of your prospects
Don't just rely on public emails from prospects. Use our email discovery and verification feature to find their verified business emails, and validate them in real time.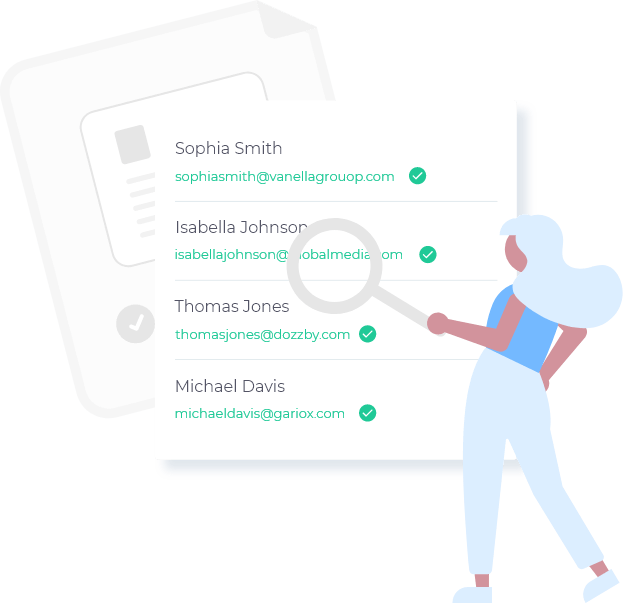 Without the need for third-party tools
Thanks to our intuitive and progressive discovery / import process, you can instantly use the data collected to engage in dialogue with your prospects.
Combine Email Finder with multichannel prospecting
Include email discovery and verification as a simple step in your sequence.
We have a team of 15 sales people in the French-speaking market and LeadIn is our unique growth tool. It allowed us to sign many clients on autopilot, with one person managing everyone's account. Very convenient.
Paul Cheynet
Head of Sales - Houzz
LeadIn allows us to successfully target & contact potential leads from small companies to large scale businesses. The support team is always there to assist with the campaigns.
Katya
VP of Growth - 123compare
I have experienced pretty much all of LinkedIn's automation tools and platforms over the past two years in my agency and LeadIn is far better. The tool does pretty much everything the competition does, but better, and in one platform.
Luke Marlow
Founder - Webvids
This tool has helped us connect with executive level contacts, the interface is very easy to use, the support has exceeded our expectations and I would recommend LeadIn for any organization looking to increase their visibility on LinkedIn and beyond.
Rick bolt
Head of Sales - Incepta Solutions
Our team needed an all-in-one tool to simplify our prospecting and reduce our costs associated with different platforms. It's done, and LeadIn goes (far) beyond any tool you can find on the market.
Pierre-Ange Chemarin
Co-founder - Twilead
Since using LeadIn for my prospecting, the prospecting workload has decreased considerably. I have a lot more time to focus on other tasks and I am more productive. We recommend this tool to all of our franchises.
Joris Introini
Co-founder - Meltdown
Working with LeadIn has been great. The platform has been easy to use and has connected me with thousands of niche specific prospects whom I continue to work to this day.
Alexander hamilton
CEO - Founder Prospect DNA
LeadIn is the tool you've always been looking for.
You are ready to use a " 4.0 "? Book a demo with our team and See for yourself !