LinkedIn automated prospecting that actually gets answers
THE # 1 LINKEDIN & Email Automation Software INTELLIGENT, 100% Unlimited and Cloud Based
Create the most personalized touchpoints with your potential customers, all in one tool. We already have everything you need.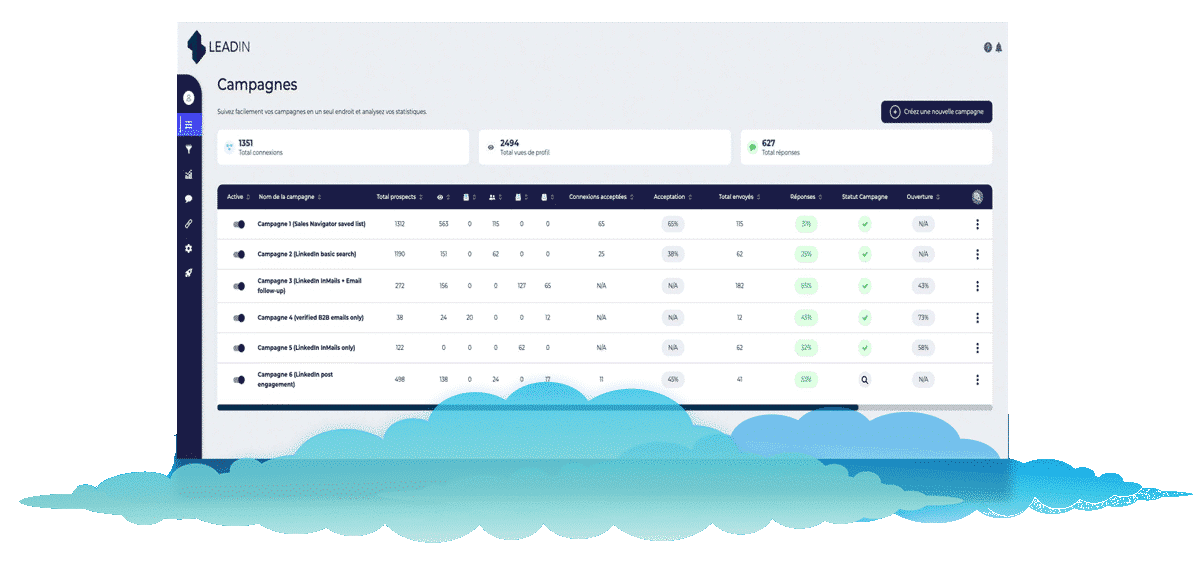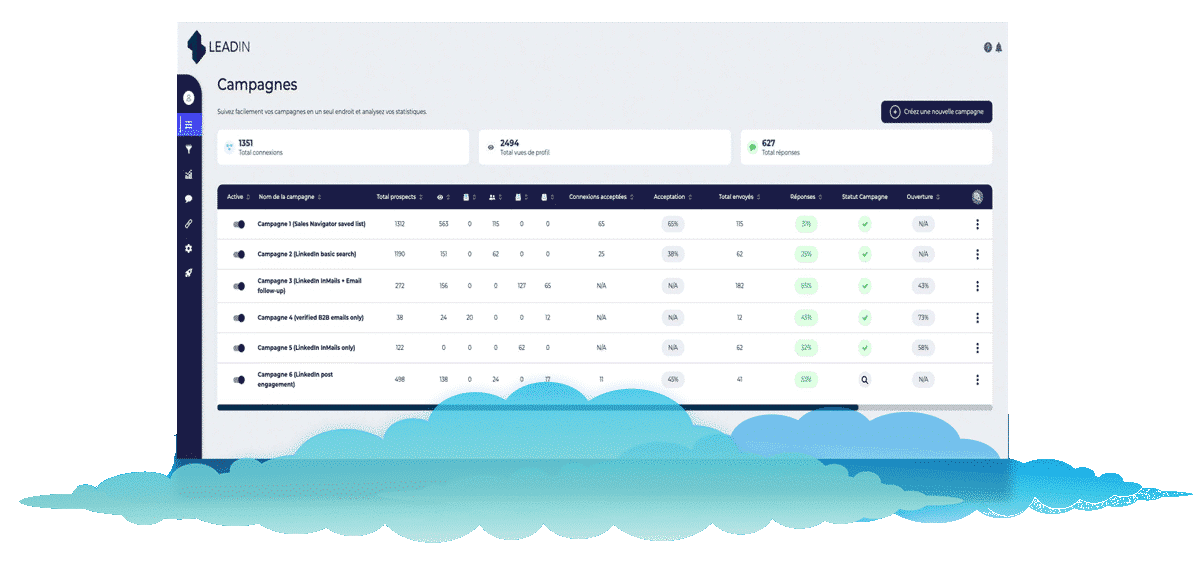 LinkedIn leads won by our clients
How does our solution work?
The security of your LinkedIn account and the health of your domain name are more important than ever
Your own dedicated IP address by region
A new proxy IP address is assigned to each account and our algorithm mimics human behavior.
Automatic preheating function
Gone are the days when your account was suspended due to too much activity ! Embedded AI will increase your daily campaign limits gradually each day to better mimic human behavior and avoid any associated risk.
LeadIn provides for random delays between actions, to mimic human behavior.
This means that your computer does not need to be turned on. It works 24/7 in the cloud (or at specific times, depending on your settings).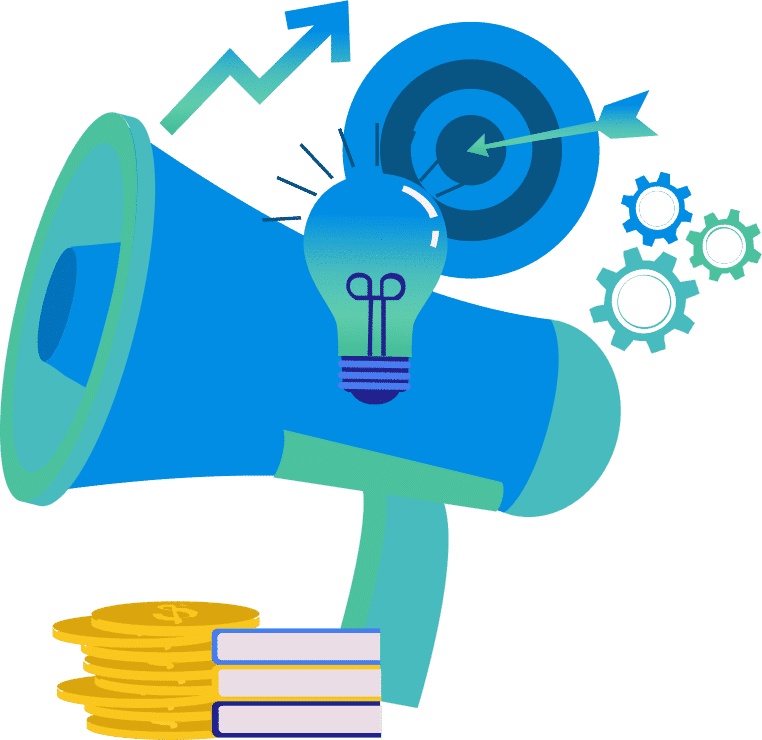 The most powerful features in today's marketing automation, applied to LinkedIn.
An all-in-one tool towards a new era of social prospecting.
Our system is completely secure thanks to our cloud infrastructure, our dedicated location-based IP addresses and our proprietary human mimicry system. Everything is done in a perfectly human manner that is both completely undetectable and reliable to profit from your automation campaigns on autopilot.
No more extensions that compromise your account and force you to keep your screen on. The cloud-based system ensures security and a dedicated IP address is assigned to each account from your location. Log in securely from any browser and manage your campaigns and inbox.
With our wide selection of variables, you can personalize your messages to a whole new level. You can add imagery or gifs in advanced customization, via LinkedIn and / or email. If you want to make changes to prospect information, you can do so with just a few clicks from the platform to avoid awkward engagement.
Thanks to our smart chat feature, you can reply to messages and emails directly from LeadIn without any difficulty. Sort your posts by campaign, tag leads, add notes next to conversations, and focus on what really matters: closing business and maximizing engagement metrics from your campaigns.
The most advanced multichannel prospecting on the market
Import your prospects from LinkedIn in all its forms, or from a CSV document, and automatically combine the most effective channels of B2B prospecting: use emails and engagement sequences on LinkedIn to create as many points of contact as possible with your prospects and generate new business opportunities on autopilot.
Transparent and essential user interface
The interface is intuitive and the experience as transparent as possible to allow our users to focus on their leads and their results. Create campaigns in under minutes and manage it all from one place. It's the nicest and fastest UX of any automation tool on the market!
Getting in touch with your potential customers has never been easier
Send personalized invitations from Free Connect, Messages and InMails. Combine them with the profile visit and subscription features to optimize contact with your potential customers.
LinkedIn compatibility: LinkedIn Basic, Sales Navigator, CSV import, post engagement, saved prospect lists.
Combine the two most effective prospecting channels
Add and combine E-mails with your prospecting actions on LinkedIn, all in one sequence.
E-mail compatibility: Gmail, Outlook, custom SMTP.
We make sure your emails are delivered
Discovery and verification of emails
Discovery: Find the professional emails of your prospects, with or without being connected with them on LinkedIn, and without the use of a third-party tool.
Verification : Say goodbye to high bounce rates with our included real-time email verification feature.
Add a touch of creativity to your prospecting actions
Personalization of images and GIFs
Create brand new hyper-personalized acquisition tunnels at scale without third-party integrations by simply adding images and GIFs to your LinkedIn and Email prospecting actions. Multiply your response rate up to 2.7X and generate as many new opportunities as possible.
Create scenarios based on the behavior of your prospects
Smart sequences are breakthrough algorithms that allow you to make the most of the potential of multi-channel prospecting and personalization.
Automate all your lead generation actions with stages and deadlines at your convenience that think for you!
We have tried everything. You won't find better anywhere else.
Take advantage of the most advanced features of a smart all-in-one LinkedIn & Verified Email prospecting tool today. Support available 24/7.
* Do you need multiple accounts for your business or that of your clients?
Contact us to discuss setting up a tailor-made subscription. *
frequently asked Questions
You have a question ? We've probably answered it already below!
How many people can I reach per day?
You can connect to 100-150 new people per week thanks to LinkedIn's new restriction, send 170 messages to existing connections every 24 hours, send 800 free InMails per month and up to 100 Emails per day. You can choose to run your campaigns 7 days a week, or not run them on weekends.
Can I spend bypassing LinkedIn's daily limit?
Yes, LeadIn's ability to combine LinkedIn with the email approach, to discover and verify business emails, to recognize if the target's profile is open to free InMails, helps bypass the limitations of using LinkedIn!
LeadIn allows you to bypass LinkedIn, but not its limits! We are referring here to LeadIn's multichannel prospecting and the ability to find alternative, secure, and truly effective paths to your prospects: smart sequences of LeadIn react to user behavior and choose the most direct way to get in touch with it.
Imagine for example sending 100-150 connection requests per week, 100 free inmails, and 150 emails to verified business addresses, all from a single sequence, isn't that the "4.0" way to engage your market in the current time ?
We regularly try all the solutions on the market, you can believe us, this is the most secure and efficient!
Is my account safe?
While some tools may result in your account being restricted or banned, using our tool is 100% safe since it works as if a human is in front of the computer, simply automating things the same way as a human would do it manually.
Can anyone notice that I am using automation?
No, our system is completely human, and unless you are using generic, non-personalized messages, no one can suspect that you are using an automation tool.
Can I cancel the subscription at any time?
Yes. You can unsubscribe at any time, which means we won't charge you for anything, unless you decide to re-subscribe.
When will you bill me for the subscription? Can I have multiple subscriptions / accounts?
Once you sign up for LeadIn, you have a 14-day free trial. You will be able to add a LinkedIn account and connect an account for sending email. If you want to add multiple accounts, you can request chat support to add multiple multi-account login credits to you, which will upgrade your subscription.
Once payment is made, your subscription will be active for 30 days.
Is customer support included?
Yes ! Our multilingual support team is available every day from 8 a.m. to midnight to answer your questions. Their average response time is around 5 - 10 minutes. We recommend that you use English for expedited return.
Is LeadIn an extension?
No, LeadIn is a cloud-based tool that you connect to with your browser and can close at any time, since it works independently of your computer.
We have a team of 15 sales people in the French-speaking market and LeadIn is our unique growth tool. It allowed us to sign many clients on autopilot, with one person managing everyone's account. Very convenient.
Paul Cheynet
Head of Sales - Houzz
LeadIn allows us to successfully target & contact potential leads from small companies to large scale businesses. The support team is always there to assist with the campaigns.
Katya
VP of Growth - 123compare
I have experienced pretty much all of LinkedIn's automation tools and platforms over the past two years in my agency and LeadIn is far better. The tool does pretty much everything the competition does, but better, and in one platform.
Luke Marlow
Founder - Webvids
This tool has helped us connect with executive level contacts, the interface is very easy to use, the support has exceeded our expectations and I would recommend LeadIn for any organization looking to increase their visibility on LinkedIn and beyond.
Rick bolt
Head of Sales - Incepta Solutions
Our team needed an all-in-one tool to simplify our prospecting and reduce our costs associated with different platforms. It's done, and LeadIn goes (far) beyond any tool you can find on the market.
Pierre-Ange Chemarin
Co-founder - Twilead
Since using LeadIn for my prospecting, the prospecting workload has decreased considerably. I have a lot more time to focus on other tasks and I am more productive. We recommend this tool to all of our franchises.
Joris Introini
Co-founder - Meltdown
Working with LeadIn has been great. The platform has been easy to use and has connected me with thousands of niche specific prospects whom I continue to work to this day.
Alexander hamilton
CEO - Founder Prospect DNA
LeadIn is the tool you've always been looking for.
You are ready to use a " 4.0 "? Book a demo with our team and See for yourself !
What if you became a LeadIn partner?
OUR AFFILIATE PROGRAM OR OUR WHITE BRAND SERVICES ARE completely free and only require a few minutes to create an account. Once registered, you can start REFERRAL and earn automatic commissions!
Refer and earn
As a LeadIn affiliate, you will earn 15% of the monthly value of all the people subscribing to the LeadIn platform that you have referred, for the duration of their engagement, without special conditions. And this, multiplied by the number of connected accounts! Ex: you refer a customer who connects 7 accounts, you generate more than 100 € each month on autopilot!
Unique software
LeadIn is the most advanced multi-channel LinkedIn & Email automation software (we can prove it, unlike the rest of the market, just take a look at our "alternatives" pages!). Promote an exclusive product that is in high demand by salespeople, consultants, startup founders and marketing agencies, or even recruiters.
Support for affiliates
Affiliates get priority support anytime by phone, email, or live chat. You will also benefit from a dedicated affiliate manager and detailed training.
Discover the services of the LeadIn agency "Fait-pour-vous"
Would you prefer that our expert social selling agency take care of everything for you?
Discover our packs below
"Made-for-you" lead generation service
Recruiting service
"Done-for-you"