You are convinced of the value of LinkedIn to find potential clients, advance your career, work on your personal branding and/or build a community around your expertise. To take advantage of all the opportunities in the Microsoft Professional Network, you want to optimize your profile, especially the "summary" or "about" section, where other members build their first impression of you.
In this handy guide, the LeadIn editorial team reviews the importance of the LinkedIn summary, gives you 8 golden rules for a powerful " about " section, and offers 5 examples of LinkedIn summaries for inspiration. Let's go !
Summary or "About" LinkedIn: What is it?
On LinkedIn, the "about" section, sometimes referred to as the " LinkedIn summary" in reference to the block's former name, is simply the paragraph just below your first name, last name, position and tagline on your LinkedIn profile. For those who use LinkedIn in English, the " about " section is called " Summary ".
To edit it and make it visible to users who visit your profile, simply click on " Add a section to profile ", in blue, just below the count of the number of your connections, then click on "Summary".
Why is the "about" section important on LinkedIn?
It's simply the first thing users see on your profile, after your photo, first and last name and job title. It's your business card, your pitch and above all an opportunity to make a good first impression. You will detail your professional experience, your expertise, your soft-skills and your achievements to make your peers, prospects and/or potential employers want to talk to you.
The LinkedIn summary is also a key element of the visibility of your LinkedIn profile on Google, as it allows you to integrate targeted keywords so that your profile comes up on queries related to your core business or area of expertise.
How big is the "about" section on LinkedIn?
The LinkedIn summary is exactly 2,600 characters long, or about 400 words. This does not mean that you necessarily have to go that far, unless your career path is atypical or marked by a change of direction, for example (we will come back to this).
8 golden rules for a powerful LinkedIn summary
With nearly 850 million members, LinkedIn is bursting with opportunities, whether it's to find your next job, work on your personal branding, build an audience and readership, and most importantly, find potential clients. Whatever your purpose for joining LinkedIn, your summary, or " about " section, will help you achieve it… as long as you follow these 8 golden rules.
#1 Storytelling: the LinkedIn summary is not a rehash of your resume
This is, by far, the most common mistake we come across on LinkedIn: experienced and seasoned professionals simply rehash the lines of their resume in a formal, monotonous and sometimes austere tone. Their LinkedIn summary lacks personality, character, and density, and does not encourage the reader to seek them out.
Certainly, your about section should provide relevant information about your expertise, achievements and value proposition. But it must also meet a criterion of form, with impactful formulas, punchlines, perhaps a little humor and a dynamic, human and authentic tone that promotes engagement. The best salespeople don't just list the technical features of the product they are marketing. They storytell about its added value, the solution it provides to a problem and the company's brand image.
According to a PPTPOP study, the sales pitches that convert the most are mostly composed of storytelling elements (up to 65%). The same applies to your LinkedIn summary. You are pitching your expertise, your value proposition
and
your personality.
#2 LinkedIn Summary: It's all in the first 50 words
Some people talk about the first 300 words, others about the first 200, others about the first half of the summary… In reality, it's the very first paragraph of your summary, the first 50 words or so, that determines whether the reader will continue reading to the end or click "Back" to return to the results page and visit a less boring, more authentic profile.
Here's a statistic you should NEVER lose sight of. Our attention span has decreased from 12 seconds in 2000 to 8 seconds in 2022, according to a Microsoft study. That's one second less than a goldfish, which has an attention span of 9 seconds. We'll let you digest this information for a second.
In the age of infobesity, of the embarrassment of choice and of information at your fingertips, it is no longer permitted to use empty and meaningless formulas and to practice novlanguage. So adopt this mindset when writing your LinkedIn summary, with a focus on the very first paragraph, which we usually read in about ten seconds… just before our limited attention span pushes us to scroll or do something else.
#3 LinkedIn Summary: we write for the reader… but also for the LinkedIn and Google algorithm
As with a landing page or a blog post, your LinkedIn summary must provide relevant, useful and entertainingIt must also use strategic and carefully selected keywords to promote the visibility of your LinkedIn profile on Google and other search engines, but also on the internal search engine of the Microsoft social network.
As the leading professional social network, LinkedIn has a high visibility on Google. In fact, it is one of the first results proposed by the search engine's algorithm when you enter a request with a first and last name, but not only.
Use tools such as Ahrefs, SEMrush, Term Explorer or Google's Keyword Planner to identify the most searched (and possibly least competitive) keywords associated with your industry and expertise. Note: these keywords should be included in your LinkedIn summary, but also elsewhere in your profile, whenever possible. The hardest part will be finding the best balance between SEO considerations and text quality. A hint: it is the quality of the text that counts.
Always
.
#4 We aerate, we list and we avoid the big paving stones
Your LinkedIn summary should use all good readability practices. It's very simple:
Each paragraph should not exceed 4 lines, maximum;
Leave a blank line between each paragraph. The line break without a line break is not enough to break up a text;
We warmly recommend the use of bullet points if you want to list skills or achievements, for example. It's easier to read, better organized and professional;
Put the keywords in bold… more to make them stand out than for any SEO interest;
If your positioning allows it, use a few clever emojis to illustrate your words and give a little color to your LinkedIn summary.
#5 Spelling, grammar and syntax…
It may be obvious to say, but you'd be surprised by the number of mistakes that litter LinkedIn summaries. With the same "background", the best-written profile will always be more credible and reassuring than a profile full of typos or, worse, language errors. If spelling and syntax are not your forte, have a collaborator proofread your text or use a correction tool. Some tips:
A capital letter at the beginning of the sentence, systematically. You can use the "all caps" mode on one or two important word(s) in your summary, no more;
Pay attention to the management of the space before and after the punctuation marks. Always a space after the dot, never before. Always a space after the comma, never before. Always a space before and a space after the semicolon. Always a space before and after the question mark and exclamation mark;
Accent your capital letters where appropriate. If you don't have this option on your keyboard, copy and paste from Google. " Writing" is cleaner and more pleasant than " Writing ".
#6 Conclude your LinkedIn summary with a Call to Action (CTA)
The Call to Action is a short sentence, usually added at the end of the LinkedIn summary, to encourage readers to perform a specific action such as :
Contact you;
Make an appointment on Calendly ;
Send you a connection request;
Follow you on LinkedIn;
Send you an instant message on LinkedIn;
Take a tour of your website or a specific landing page, etc.
Please note: some LinkedIn profiles disclose their phone number and/or email address directly on their LinkedIn summary. Sure, the CTA is relevant… but you are exposing yourself to spammers.
#7 Grow your LinkedIn summary with your career
Your LinkedIn summary should stay alive and evolve with your career, as you acquire new skills through experience or training, professional accomplishments, achievements, new interests, etc. We also recommend that you systematically read the " about " sections of the profiles you visit while prospecting or networking and get inspired by the best punchlines of your peers.
#8 Illustrate your words with external content
If you have the opportunity, back up what you say with relevant content or documents. It could be an article you wrote, an interview you gave, a case study that demonstrates your expertise, etc.
5 examples of LinkedIn summaries written the right way
In addition to the 8 golden rules presented above, you will need another decisive ingredient: inspiration. The goal of this LeadIn how-to guide is to help you create a powerful LinkedIn summary after you've read it. That's why we've provided you with 5 examples of LinkedIn summaries written the right way!
#1 Ilya Azovtsev – LinkedIn Expert
Ilya Azovtsev is a LinkedIn expert who has managed to generate more than one million views on his profile in just four months… a remarkable achievement! This marketer specialized in digital marketing leads the Growth department at Lemlist.
His LinkedIn profile summary is catchy, with a direct and clear tagline. Its text is airy, illustrated with emojis and conveys an expert image that reassures. We appreciate the omnipresence of figures and performance indicators that show that its action generates tangible results. Finally, it uses a CTA that lists different ways to contact it.
#2 Christa Dias, Talent Acquisition Manager at Twitter
Christa Dias' LinkedIn summary is interesting in more ways than one: it conveys Twitter's corporate culture, using a brand-specific term(Tweep). It also emphasizes the values and the " Why " of its action, i.e. to help talents realize their full potential and bring their added value to the "exchanges of tomorrow". She also talks about the opportunities Twitter offers its teams to improve their daily lives, including the ability to telecommute full-time.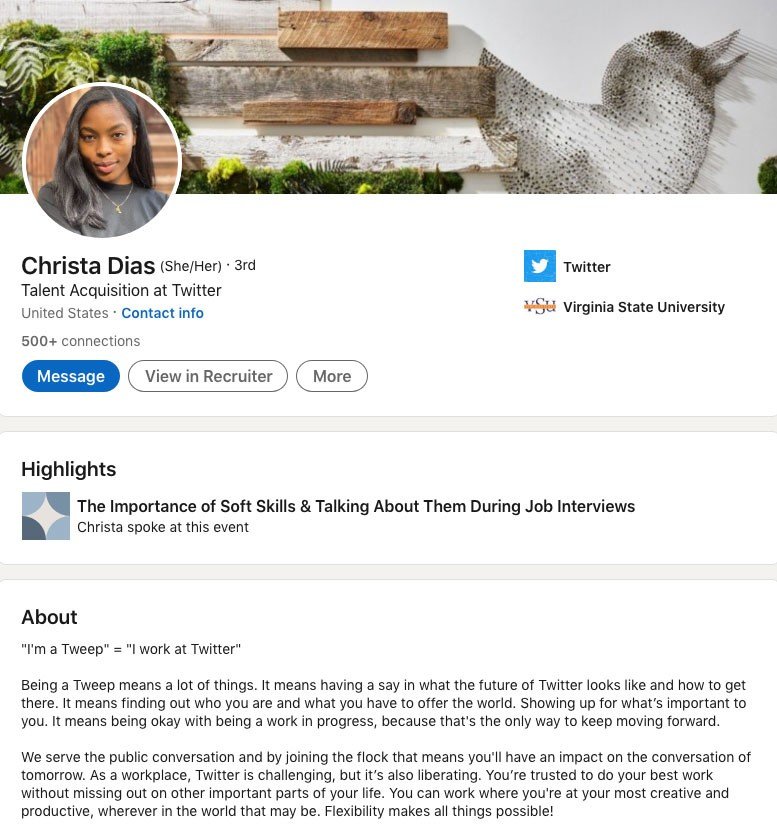 #3 Sally Liang, financial analyst at Johnson & Johnson
In her summary, Sally Liang plays the storytelling card by talking about her origins, her immigration to the United States and the difficulties she experienced at the beginning of her career… and then making the connection with her ethical and empathetic qualities. She also mentions an unusual hobby that is very rewarding in the working world: skydiving, which evokes calculated risk-taking and adventure. She adopts a conversational, human and authentic tone that encourages contact.
#4 Sharon van Donkelaar, CMO at Expandi
Sharon is Marketing Director at Expandi. His LinkedIn profile is a good example to follow if you want to improve your visibility on the social network, with relevant keywords, bullet points, some emojis, KPIs and a clear and precise CTA.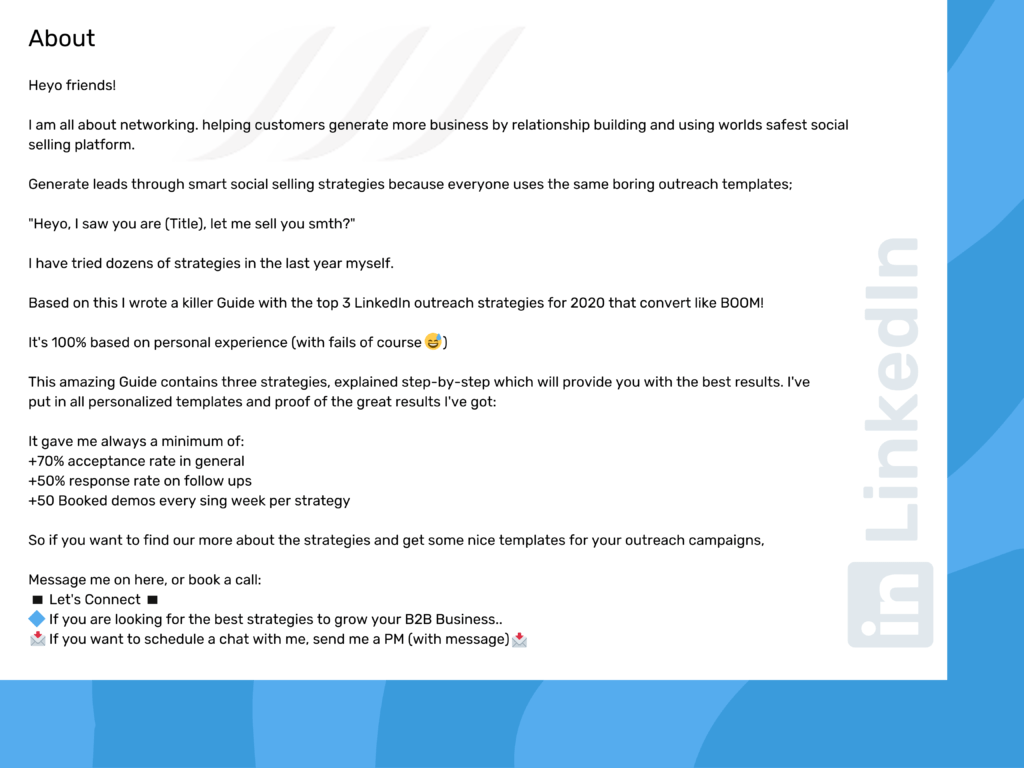 #5 Daniel Thornburgh – Software Engineer at Google
The LinkedIn summary of this software engineer at Google tells the story of his life journey, from his youth to today, with sincerity. The text is punctuated by keywords specific to her industry, and professional accomplishments are presented in a humble manner, making the person particularly engaging. However, we would have preferred the first paragraph to be shorter or better spaced.