It's time to look for a Prospectin alternative.
Find out why Prospectin users are (finally) happy with LeadIn. Take a look at the comparison below and see for yourself why we are constantly seeing an influx of Prospectin users. migrate to LeadIn (and what they say about it) !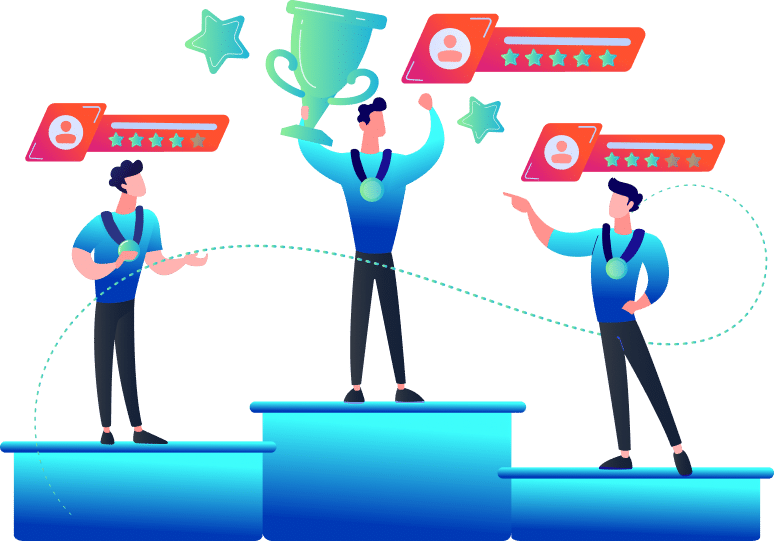 How does LeadIn compare to Prospectin? (In truth...)
Custom LinkedIn Automation
Limit to basic variables and actions only
Cloud-based, secure, undetectable software (works offline)
Creation of campaigns from LinkedIn, Sales Navigator and CSV import
Create campaigns from LinkedIn news feed post
Create Campaigns from Saved Sales Navigator Lists of Prospects
Native hyper-personalization of images and GIFs (multichannel)
Construction of intelligent multichannel sequences (behavioral conditions)
Limit Linkedin and predefined scenarios without behavioral conditions
B2B email discovery & verification
Option to return prospects in sequences after response
Multi-account management interface
"Company" plan at 150 € / month only
"Company" plan at 150 € / month only
Advanced dashboards and statistics
"Company" plan at 150 € / month only
Limit to basic variables only
CRM integration (Webhook)
The best Prospectin alternative? Examples of unique functions that LeadIn offers you that Prospectin does not have
LeadIn gives you 6 of the most advanced solutions in 1, the price less.
No need to do everything manually on LinkedIn, you can now send your connection requests, messages and personalized InMails on autopilot. LeadIn also gives you advanced data and reports that will tell you which sequences are performing the best. Take advantage of targeting features that are unique in the world (engagement by post, lists of saved prospects, etc.).
LeadIn is also an emailing platform that allows you to send automated personalized emails on a large scale. Just connect to any email provider on LeadIn and create your campaigns with as many steps as you want. Better yet, you can combine your prospecting actions on LinkedIn and by email in a single campaign with different "IF" conditions thanks to the intelligent sequences of LeadIn.
Hyper-personalization of GIFs and images
Today more than ever, it is important to stand out from the crowd in your prospecting actions. With LeadIn's native image and GIF customization, see how you can double your response rate up to 2.7x. Create custom images or GIFs where you can include the prospect's profile image, their company logo, and dynamic text like first name, title, company name, etc.
Find professional emails from your prospects on LinkedIn. Email Discovery uses a lot of data to find a prospect's verified email address with our LeadIn crawlers. It's unlimited and you don't pay by email address through the use of other tools. If you select "Professional Email" when sending your emails, you can therefore be 100% sure that your email will reach your prospect's business address only, in the event that it has been discovered by LeadIn.
After you find out about your prospects' business emails on LinkedIn, LeadIn checks them for you. You don't have to buy several separate tools for extracting, discovering and verifying email addresses, LeadIn gives you everything in one place. We test in real time the addresses found to ensure that you have no bounce rate when sending your emails. Indispensable to preserve your deliverability and avoid spam!
LeadIn automatically collects data from all your prospects. You can download data for a specific campaign or all of your campaigns in CSV format at any time. Included: First Name, Last Name, Campaign, Profile URL, Position, Email and Professional Email (if identified by LeadIn), Phone, Website, Twitter, last message exchanged, prospect status in your sequences, tags applied …
All this and many more features, for only 97 € per month and unlimited user.
We regularly try all market tools . You won't find better elsewhere for hyper-personalized and engaging prospecting. Watch the demo video and we'll show you how to maximize your lead generation with LeadIn.
What they say after their migration
" Flyer is primarily intended for beginners or teams looking for a simple gadget. "
" This is a chrome browser extension, it means you will need to have your LinkedIn open and your computer running for it to work in the background. "
" This is quite inconvenient, as you cannot work on other aspects of your business while you are Prospectin automates the generation and distribution of your prospects. "
" LeadIn works in the background (from the cloud, even if your computer is turned off) and mimics human behavior. Which makes it one of the safest alternatives to Prospectin."
LeadIn vs Prospectin in other words
We have a team of 15 sales people in the French-speaking market and LeadIn is our unique growth tool. It allowed us to sign many clients on autopilot, with one person managing everyone's account. Very convenient.
Paul C.
Head of Sales - Houzz
LeadIn allows us to successfully target & contact potential leads from small companies to large scale businesses. The support team is always there to assist with the campaigns.
Katya
VP of Growth - 123compare
I have experienced pretty much all of LinkedIn's automation tools and platforms over the past two years in my agency and LeadIn is far better. The tool does pretty much everything the competition does, but better, and in one platform.
Luke M.
Founder - Webvids
This tool has helped us connect with executive level contacts, the interface is very easy to use, the support has exceeded our expectations and I would recommend LeadIn for any organization looking to increase their visibility on LinkedIn and beyond.
Rick B.
Head of Sales - Incepta Solutions
Since using LeadIn for my prospecting, the prospecting workload has decreased considerably. I have a lot more time to focus on other tasks and I am more productive. We recommend this tool to all of our franchises.
Joris I.
Co-founder - Meltdown
Working with LeadIn has been great. The platform has been easy to use and has connected me with thousands of niche specific prospects whom I continue to work to this day.
Alexander H.
CEO - Founder Prospect DNA
LeadIn is the tool you've always been looking for.
Are you ready to use a "4.0" tool? Book a demo with our team and see for yourself why we are constantly seeing an influx of Prospectin users migrate to LeadIn !