All the Hacks you need to know to prepare a perfect prospecting campaign on LinkedIn in 2022! (Advanced strategies, lists of perfect prospects, laser targeting...)
The latest change to the 2022 LinkedIn connection limit has structurally changed networking on the platform.
With 100 connection requests per week (sending "classic" connection requests), many people find it difficult to generate leads effectively.
Fortunately, we have a solution that will fill your LinkedIn Sales Navigator with "perfect" leads.
Read on for LinkedIn best practices that work with connection limit in 2022 and other unique strategies that can increase your acceptance rate!
We're going to cover LinkedIn strategies , best practices , and other marketing tips so you can keep generating leads like the new connection limit doesn't apply to you!
The LinkedIn prospecting strategies and practices we will cover are:
Engagement of publications / post on LinkedIn.
Scraping and engagement of participants in LinkedIn surveys.
Scraping and engagement of participants in LinkedIn events.
How targeting changed in 2022 on LinkedIn and how to avoid the new connection limit.
The 5 Best LinkedIn Targeting Hacks You Must Implement Today.
Now, let's take a look at each strategy for how you can start populating your LinkedIn Sales Navigator list with perfect leads in 2022!
1. Engagement of publications / posts on LinkedIn
Engaging in LinkedIn posts is a proven prospecting strategy that we've perfected.
With this strategy, we simply retarget people who have liked or commented a specific message using LeadIn.
All you have to do is:
1. Go to LinkedIn and copy the URL of the relevant post to engage.
2. Create a new search in LeadIn.
3. Go to Post engagement.
4. Paste the URL.
5. Build your streak and write your engagement posts however you see fit.
Easy, right? Just press "Start Campaign"!
Simple tactic, but very effective if LinkedIn limits your connections to 100 per week .
advice : this technique is all the more effective if you use the "If free InMail" feature to detect whether your targets are able to receive free inmail from you – a way to bypass the connection request limit because you won't have to send a connection request to generate leads!
With this technique, you'll reach out to prospects with whom you often have something in common (e.g., you liked the same article). They will therefore be more likely to accept your request and connect with you.
In 2022, it is more important than ever to have high quality connection request. And this type of engagement is one of our favorite campaigns to connect with new people.
With this campaign, we often get a 70 %. at 80 %.
For more information on how to set up similar outreach campaigns and the exact outreach models we use, you'll soon be able to check out our in-depth guide to engaging posts / posts on LinkedIn.
2. Scraping and engaging participants in LinkedIn surveys.
Retrieving lists of participants from LinkedIn surveys is a new tactic that we have experimented with successfully.
As with the post-engagement strategy above, the reason this prospecting campaign works well is that you can use the survey to easily start a conversation.
And because it's easier to take a survey than it is to leave a comment on LinkedIn, you'll often have more people to reach that way.
People can also vote on your polls without being connected with you. So this is a great way to attract new prospects who will be happy to get in touch with you.
If they've taken your survey, there's a good chance they're happy to connect with you as well!
However, you must be the survey creator , otherwise you will not be able to retrieve the list of prospects who responded.
To retrieve your survey listings on LinkedIn:
1. Copy the link to the post / poll.
2. Create a new campaign on LeadIn.
3. Choose Post Engagement and paste the URL.
4. Build your streak and write your engagement messages however you see fit.

3. Scraping and engaging participants in LinkedIn events.
Extracting LinkedIn events is one way efficient and specific to find your target audience on LinkedIn, regardless of the niche.
It only takes just under 5 minutes to retrieve events and reach up to 1,000 prospects. Without the need for complicated LinkedIn filters, retargeting or other "hacks".
Here's how this simple approach strategy works:
1. Find a relevant event on LinkedIn that your target audience will attend.
2. Press "Attend" to access the list of other people who are also planning to attend.
3. Refine the list of participants using the LinkedIn search criteria

4. Go to LeadIn and import the URL of your search to then create your campaign and automatically engage the selected participants.
When creating your message sequence, you can approach your approach in two different ways:
If you are the event organizer, you can retrieve the list of attendees, thank them for attending and get in touch with them to further develop this relationship.
If you are attending the same event as your prospects, mention that you are eager to attend (or what you enjoyed about it if the event has passed) and ask a personalized question related to the event.
As, in both cases, you have something in common with your prospect, most people will be happy to get in touch with you.
4. LinkedIn targeting in 2022 and the creation of customer personas
As you may have noticed, LinkedIn targeting in 2022 has changed dramatically due to the new limit of 100 connections per week .
The "broadcast & pray" tactic is over.
And every connection matters more than ever.
While a lot of things are still under development, here's what we know:
The more your acceptance rate connections and your response rate are high, the more likely you are to exceed the limit of 100 connections per week.
Essentially, LinkedIn wants platform users to connect with people they know. personally .
Therefore, you must really reconsider your approach as part of obtaining a connection acceptance rate as high as possible .
In our experience, the 3 strategies that make it possible to obtain the highest acceptance rates are the following :
Engagement in LinkedIn posts and publications.
Scraping and engagement of participants in LinkedIn surveys.
Scraping and engagement of participants in LinkedIn events.
And these strategies are the most effective in 2022 among this set of targeting strategies with which we are regularly successful:
While LinkedIn does not yet provide real visibility into what exactly triggers these limits (profile views; connection requests; other), we have found that the new connection request limit is a good thing .
It was necessary because people were abusing LinkedIn with prospecting strategies such as " quantity at the expense of quality Simply because they could target more people than they do now.
Today, the best performing campaigns receive fewer connection limits .
In other words, the more qualified your prospects, the less risk you run!
And LinkedIn outreach campaigns of more qualified contacts had no issues with LinkedIn's new limit.
Lesson ?
Higher qualification of leads equals higher conversions to booked calls.
So, to move forward with your prospecting campaigns on LinkedIn, you need to focus on your targeting in order to reach relevant prospects, and on the quality from prospects if you want to avoid the new connection limit on LinkedIn.
Now here are 5 targeting tips for increase your acceptance rate and improve your targeting .
5. 5 LinkedIn Targeting Tips You Can Use To Increase Your Reach Today
Tip # 1: Create profiles of your ideal clients for LinkedIn and start using search groups.
The increase in acceptance rate of your connection requests is an important step in overcoming the limit of 100 connections per week .
If LinkedIn sees that many people are connecting with you and responding to your posts, it will assume that you are connecting with people you know. personally and that you don't spam random people.
So, when doing prospecting, you should first identify the different types of people involved in your sales process :
Decision Makers – Level 1 prospects at the top of the chain. Usually these are CEOs, communications directors, VPs of marketing, etc.
Influencers – Level 2 prospects who are typically involved in the decision-making process and guide day-to-day activities. For example, the growth manager, sales manager, senior managers, etc.
Advocates – Level 3 prospects who have a voice but no purchasing power. These are account managers, account managers, marketing managers, etc.
After you have gathered your targeting URLs corresponding to the segments above (we recommend Sales Navigator to do this) it will be relevant to duplicate your sequences and adapt the speech according to the degree of seniority and involvement of your targets.
And the higher your qualification rate, the higher the conversion rate in calls generated will be!
Tip # 2: Locate businesses that match your targeting criteria.
This trick is simple but effective.
Essentially, the people you are targeting should align with your targeting criteria and your Ideal Customer Persona (KPI).
Think about your intention indicator .
For example, here is a list of software companies in the United States and Europe, taken from Crunchbase (you can take advantage of a free account on their platform to build your first lists and extract your first data).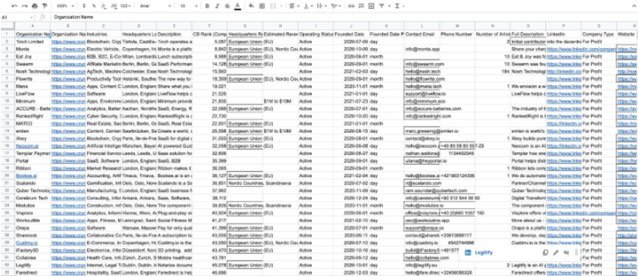 Some intention indicators may include: The crossing a new stage , the job changes , the recent hires , the high ad spending , the Frequent posting of blog articles , etc.
For example, if a business quickly hires more employees, we can assume that it is growing or has secured a new round of funding. In other words, she has more money to spend, and your offer might be relevant at the time.
Once you have more intention indicators , you can think of other targeting strategies based on your offer.
Ideally, you should also use the customization when logging in here too.
Whatever your data source ( Crunchbase in this case) all you need to do is import your CSV targeting documents into LeadIn to engage the targets:
Tip # 3: Use Booleans to Filter Your Business List.
With this targeting hack, you can use Boolean filters next to your targeting sheet and then paste them into Sales Navigator.
LinkedIn Boolean searches include:
Quotation marks – For an exact match of the expression, enclose your query in quotes.
NOT searches – To exclude a phrase from your search results.
Gold searches – To display results that include one or more items from a list.
AND searches – To display the results which include all the elements of a list.
Then you can paste these Boolean filters into the company section of Sales Navigator to ensure a more specific search, like this:
And this brings us to our next targeting hack.
Tip # 4: Use Keywords and Seniority Levels to Improve Targeting in Sales Navigator.
This targeting hack uses a mix exclusions and of securities to target the right people.
It's best to use an in-action example to show how detailed Sales Navigator filtering can be:
Geography : Europe, United States.
Relationship : 2nd and 3rd degree connections.
Business : Use the boolean filters from hack n ° 3.
Workforce of the company : 1-10, 11-50, 51-200
Seniority level : CXO, Director, Manager, Owner, VP, Partner.
Function : Business Development
Title : CEO, Co-Founder
Excluded : Board of Directors, CTO, Finance, Growth, Marketing, Operations, Partner, Product
Tip # 5: Clean up your list to make sure it's campaign ready ("prequalify")
The final stage of prospecting is to prequalify your contacts in order to target only relevant prospects .
Sometimes, LinkedIn lets prospects pass that don't match your filters.
To make sure your prospecting campaign is ready, here's what you can do:
In your CSV / Google Sheets file, you can re-filter negative keywords (eg 'Social' for social media marketing) in the job title row and remove those that are not relevant to your campaign. .
As a final check, you should Again browse your contact list manually and see if they match your targeting criteria .
It might take a while, but it's worth it as you will get a higher acceptance and response rate.
You can also use the dynamic personalization in your smart sequences for further.
Bonus Tip # 6: Create and use your qualifying or disqualifying tags in LeadIn to qualify leads upon receipt of a response.
Finally, you can add personalized labels / tags in LeadIn: for example according to the degree of qualification and engagement of your prospects (from the lowest potential to the highest potential).
The idea is that once you get a response from your prospects, you can browse their profile, see if they match your targeting criteria, and apply the custom label accordingly.
It is also ideal for following and relaunching your prospects from time to time by filtering on these same labels! Gone are the days when you had to manually write down your follow-up and follow-up actions.
This way, you don't spam prospects who are not in your target market.
Once again, it should be noted that you need to target your ideal clients or people who match your research groups (see tip # 1).
And by qualifying or disqualifying prospects in this way, you can only move your campaigns forward with relevant leads.
In general, this is a good sales and prospecting practice, which also allows you to get the most out of the changes to LinkedIn in 2022.
Conclusion
There you go, it's over!
We hope this guide on How to Prepare for a Perfect LinkedIn Prospecting Campaign in 2022 – Advanced Strategies, Perfect Prospect Lists & Laser Targeting (Hacks) has been helpful to you. Even with the changes made by LinkedIn in 2022, you should be able to avoid the limit of 100 connections per week , by following the prospecting strategies above!
As of this writing and using these strategies, along with the free InMails campaigns, some of our customers and users continue to send over 50 login requests per day without restriction …
Are you ready to implement the above LinkedIn expert targeting strategies and take your LinkedIn prospecting activities to the next level?
Also, don't forget to check out the following resources:
Get a 14-day free trial of LeadIn here.
Book your personalized demonstration with our team here
Getting started with LeadIn – How to launch your first campaign