We tested 5 alternatives to Prospectin in 2022 - Here are our feedback
Are you looking for alternatives to prospectin to automate the generation and distribution of your prospects on LinkedIn?
We are here to help you !
With automation on LinkedIn, you can find , attract and reach your prospects on autopilot. You can even automate things like follow-ups and the customization .
But Prospectin is not the only tool to do this.
In fact, Prospectin tends to fall behind other tools when it comes to advanced features .
If you want to cancel your Prospectin subscription and take it further with another LinkedIn automation tool, you've come to the right place.
Here's what we'll see today:
Prospectin: Overview and comments
5 Prospectin alternatives you should consider upgrading to
Ready?
Let's take a look at the next Prospectin alternative tool you'll want to start using in 2022.
But before you decide, read everything that follows, as we also give you our opinion on what you should look for in growth-hacking tools on LinkedIn.
Prospectin: overview and review
Prospectin is one of LinkedIn automation tools the most popular on the market.
But as you will read in this article, there are many reasons why you might want to consider switching to another LinkedIn tool.
We will look at several different tools and compare the essentials such as features , the price , the integrations , etc.
But first, here's a quick overview of Prospectin to get you up to speed.
Prospectin Price
One of the main advantages of Prospectin is its price for beginners.
The main objective of the tool is to make part of the marketing automation accessible to all: automation on LinkedIn.
That is why the prices are more affordable.
The company offers 4 different price options:
Standard – very limited functionality. Ability to visit profiles automatically and send them a connection request (maximum 10-15 per day).
Pro – 25 € per month and per user. Ability to automate simple LinkedIn actions like login request, using CSV for targeting. The only difference with the standard plan is the absence of daily quota on these basic actions.
Advanced – € 50 per month and per user. Include the above functionality by adding workflows and external integration. The proposed email export is a simple scrapping of the personal data of the accounts visited, when it is available.
Business – 150 € per month and per user. Includes most of the basic functions you might need in a LinkedIn tool (previous functionality and addition of a monitoring dashboard or even anti-duplicate functionality or multi-account management).
One thing is for sure, if you want to generate leads on LinkedIn with a certain volume, you will need the option Business , because some of its functionalities are essential for prospecting campaigns: functions such as automatic follow-ups, dashboards of key campaign performance indicators, workflow integrations with other tools, anti-duplication, etc.
If you want to use Prospectin and generate leads on LinkedIn without limitation and with the essential features of automated prospecting, you will need to shell out at least 50 € per month and per user for a full subscription.
Although this price is lower than that of other alternatives to Prospectin (which we will cover below), these other tools have a multitude of other features that deserve to be paid.
Here's what you need to know about setting up Prospectin.
Configuring Prospectin
Prospectin being a extension for chrome , its implementation is quite simple.
All you need to do is download the extension, write your LinkedIn connection models and let it run in the background.
But as you'll learn below, the fact that it's an extension for chrome is a huge downside to the tool as well.
Prospectin is mainly intended for beginners or to teams looking for simple LinkedIn automation solutions and easy to use.
And since it is a chrome browser extension , this means that you will need to have your LinkedIn open and your computer running for it to work in the background.
This can be quite inconvenient, as you cannot work on other aspects of your business while you are Prospectin automates the generation and distribution of your prospects .
And since your LinkedIn is active, it's often easier for LinkedIn to detect that you're using an automated tool that is doing the work for you.
On the other hand, LeadIn works in the background ( from the cloud, even if your computer is turned off ) and mimics human behavior. Which makes it one of the safest alternatives to Prospectin.
From the start, their users have always faced the same difficulties:
Having to leave their laptop on 24/7 for the tool to work, or pay an additional subscription on other products.
Having to create activity reports because there are no interactive dashboards on the first subscriptions.
Having to manage the LinkedIn inbox manually through LinkedIn.
Do not have advanced customization for a more qualitative engagement.
Not being able to create their own engagement sequences.
See their suspended LinkedIn account regularly.
Seeing all prospects on the lists engaged at the wrong time, or even multiple times, and losing opportunities because the automation is evident.
Not being able to reintegrate the prospects who responded in the sequences and have to do everything by hand afterwards.
And more others…
… It was then that they decided to switch from Prospectin to a other tool .
Are you ready to give up on Prospectin?
After terminating your account, you can switch to a (better) alternative!
Here are a few that we tried and comment on below.
5 Prospectin Alternatives You Should Consider Adopting
LeadIn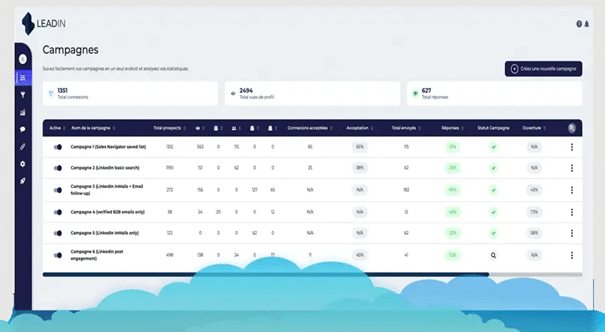 Yes, LeadIn , this is the site you are on.
But listen to us, because we can confirm it.
LeadIn is the world's most secure LinkedIn automation tool.
Here's a quick summary of why you should consider LeadIn as your next Prospectin alternative:
Security – LeadIn is a cloud-based tool that gives you a dedicated IP address and also mimics human behavior. In other words, with most LinkedIn tools (like Prospectin) your IP address is different every time you log in and LinkedIn thinks you are logging in from different places. This is not the case with LeadIn, and the tool also ensures that your prospecting campaign does not send 100 messages in 5 minutes (this is how many accounts are suspended).
Smart inbox – LeadIn detects each message and response from your LinkedIn account and centralizes them for you in a nice interface and easy to use. You can respond to your prospects directly , create classification tags to prioritize your conversations, create response templates to insert in 1 click or choose to return prospects who have responded to you at the stage you want in your sequences (ideal for saving time!).
Dynamic customization – If you want to generate leads on LinkedIn, you will need to use personalization. And with dynamic personalization, you can personalize your outreach messages beyond the simple "first name" and "last name" labels. If done right, this is a great way to stand out and we'll give a few examples below.
Email integration (multichannel) – LeadIn is compatible with Gmail, Outlook, and any SMTP mail server. After you have connected your email provider and created a signature to attach to your email, you can start usingthe automation of emails in your multichannel engagement sequences . The ideal option: it is also possible to choose to send your emails only to professional addresses (business) and thus avoid any problem of RGPD / CNIL .
Discovery and verification of emails – LeadIn has its own crawler technology allowing to identify the professional email addresses of your prospects (unlimited). The tool also makes it possible to check real-time validity of these addresses to ensure that you contact only valid business email addresses and thus preserve the health of your domain name.
Advanced functions – Finally, LeadIn also uses some unique functions that you won't find anywhere else. Things like automatic profile warming, hyperpersonalization features built into the platform (images and gifs), an exclusion blacklist, automatic removal of oldest pending connection requests, and more .
So, are you considering using LeadIn as an alternative to Prospectin? We understand you!
WeConnect
WeConnect is a another LinkedIn prospecting tool that helps prospects maintain and close business through an automated approach.
From the simple fact that it is cloud based , it is already safer than Prospectin and can be considered as an alternative to prospectin.
Here's how this tool works:
Campaign Manager – WeConnect makes it easy to set up and manage different prospecting campaigns on LinkedIn, for different prospects and target markets.

Intelligent response management – View and manage all the responses to your prospecting campaign in one place. Make new connections, follow up, support people, and more.
Easy user management – Managing everything from LinkedIn becomes quite impractical after a while. That's why it's always best to have the big picture of your prospecting campaigns and control everything from one place.
WeConnect was designed for vendors , specialists in marketing and the recruiters . Which makes it an interesting alternative to Prospectin.
It is also cheaper, at 49 € per user and per month .
The tool has a large number of necessary features , of a clean interface and a ease of use .
But it doesn't have a lot of the advanced features that you'll need if you're good at it. growth hacking and in lead generation .
Read on if so!
MeetAlfred
MeetAlfred is a another alternative to Prospectin . It's a LinkedIn automation tool that primarily focuses on social sales campaigns from start to finish.
MeetAlfred offers a bit of everything LinkedIn automation . But most of the time, it's best used to drive engagement and manage conversations with its built-in CRM.
With this alternative to popular Prospectin, you can also send bulk messages and multiple connection requests. Just be sure to keep LinkedIn best practices in mind to avoid weekly limits .
Other notable features of this tool are as follows
Email Campaign Sequences – Go beyond LinkedIn and connect your GSuite account to engage with your prospects with a multi-channel approach.
Alfred CRM – Manage your prospect connections with an internal CRM.
Campaign manager – If you run several prospecting campaigns on LinkedIn.
Template library – Access to examples of LinkedIn messages and models (only with the business plan).
With this tool, you also have a analytical dashboard essential to follow the progress of your LinkedIn campaign, what Prospectin does not have at less than 150 € per month.
MeetAlfred's pricing options vary between:
Personal plan – 35 € / month.
Business plan – 75 € / month.
LinkedHelper
LinkedHelper is another powerful LinkedIn software and CRM that has recently been updated making it a solid alternative to Prospectin.
The second version of LinkedHelper is a standalone application and not a chrome extension like the first version was.
This is a unique approach to automating LinkedIn, which may or may not be convenient depending on your uses.
Here is what the tool offers:
Drip Campaign Experience – See and control every step of your funnel, from visiting a LinkedIn profile to sending a connection request and following up.

LinkedHelper CRM – All the contacts processed are stored in their CRM. You can consult the history of contacts across all your campaigns, search by tags, notes, etc.
Intelligent response detection – If a prospect responds to your feed, the campaign stops for them. This allows you to step in and respond manually.
LinkedHelper integrates with Sales Navigator, LinkedIn recruiter, etc.
Prices also vary in depending on the duration of use of the tool :
1 month – 12 €
3 months – 35 €
6 months – 55 €
12 months – 95 €
Phantombuster
Phantombuster is a code-free LinkedIn automation and lead generation tool that helps businesses automate tasks on LinkedIn (and not only), to scrape audiences and reach their prospects.
This extension can automate most of the actions you do on LinkedIn – schedule tasks, scratch profiles, and more.
And what is so good about this tool is that you can use it as a alternative to Prospectin or in combination with other LinkedIn tools .
It is therefore a somewhat atypical LinkedIn tool. It is better to use it with a LinkedIn automation tool of your choice.
If you are looking for growth hacks and want to save time on manual tasks, you can extract your audiences using Phantombuster and use any LinkedIn automation tool of your choice to reach them.
Some key features:
LinkedIn Profile Extractor – Collect data (name, title, position, email, etc.) from a list of LinkedIn profiles.

LinkedIn network booster – Automatically send invitations and connect to a list of LinkedIn users.
LinkedIn message sender : automatically send prospecting messages, follow-ups, etc.
So, in a way, you can use Phantombuster and completely replace Prospectin or other alternative LinkedIn tools.
Depending on your needs, Phantombuster can cost between 0 and 900 euros.
But it is better to use this tool with other LinkedIn automation tools.
For example, you can grab a custom listing from a LinkedIn search, then use LeadIn to contact them. You can also upload your custom list to Phantombuster to generate a list of LinkedIn profiles.
We did something similar with the Dux-Soup facebook group and got a 76% connection request acceptance rate and 41% response rate.
To see the full strategy and how we did it, Click here .
Conclusion
In short, if you are looking for advanced features or some safer tools , you should consider switching from Prospectin to one of the alternatives mentioned above.
When choosing a tool for LinkedIn, you should keep the following points in mind:
What you get for the price listed.
Integrations.
The way they approach LinkedIn updates.
The latest proven LinkedIn tips and growth hacks.
At LeadIn, we are constantly trying to push the boundaries when it comes to prospecting campaigns on LinkedIn.
Recently, we discovered that dynamic images and GIFs are one of the best ways to get more demo calls and stand out on LinkedIn.
Thanks to the integration of the image and template builder into the platform, we created something that no one else had done before.
Using hyper-personalized GIFs like the one you see below, we've managed to achieve a 72% acceptance rate and 56% response rate to follow-ups .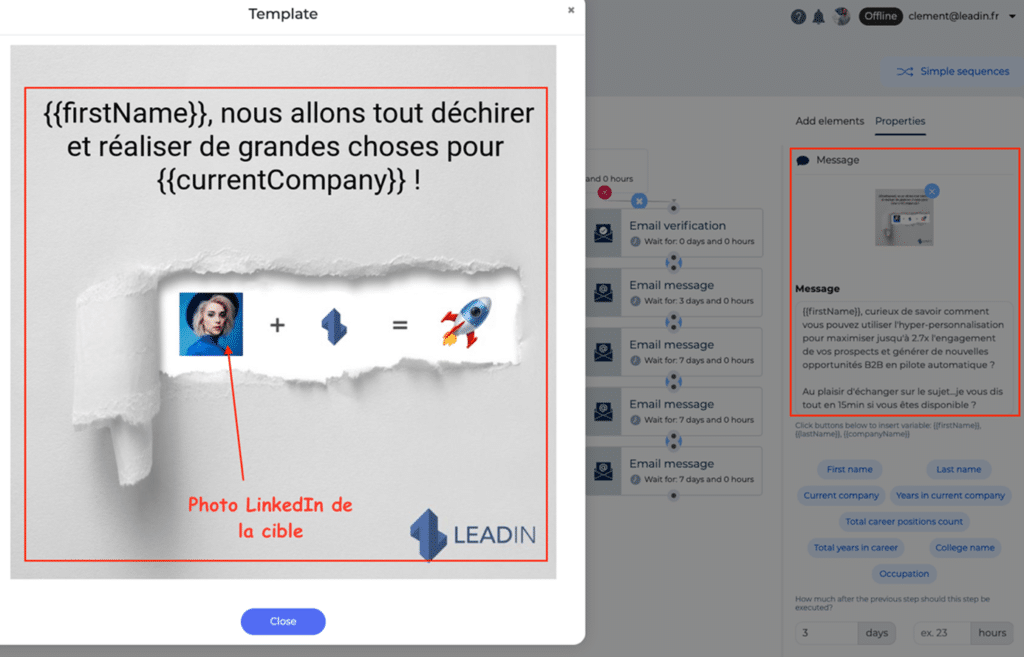 Wondering how to set up campaigns like this with LeadIn?
Consult the Complete guide to LinkedIn hyper-personalization campaigns to know all the steps.
And if you want to test a similar prospecting campaign for free, you can start today with a 14 day free trial by LeadIn.
Also check out some of our lead generation resources on LinkedIn:
Getting started with LeadIn – How to launch your first campaign
Prospecting on LinkedIn – 5 tips for getting off to a good start in 2022