Like many SME executives, you are on all fronts and have little time to allocate to your marketing efforts. However, the generation of qualified leads is a major issue for your business because it will fuel your business development.
Fortunately, you are not alone, to help you there are tools, marketing automation software whose objective is to improve the operational efficiency of marketing teams by reducing the weight of daunting tasks, without much added value.
In this article, we detail why using a solution of this type can be of great benefit to your business, then we present the main tools on the market to help you make your choice!
Why use a marketing automation solution?
Feed your leads and not sell directly
In short, the concept of marketing automation refers to software that automates your marketing for you. This software is designed to help you prioritize and execute your marketing tasks more efficiently and effectively.
Unlike automating manufacturing processes, implementing a marketing automation system will not make your work unnecessary, but will simply make you more efficient. It will allow you to free up some of your time, without compromising the authenticity of the content you produce. And it will help you reach your goals faster.
The end goal of your marketing efforts is to generate more revenue for your business. To achieve this, you need to increase traffic to your website, convert that traffic into leads, and turn those leads into customers. Marketing automation has a real impact on the conversion and closing stages of this process.
An approach compatible with a lead generation solution
Now that we've got the basics in place, let's put it all together. Marketing automation is about fueling, not selling. You avoid the "hard-sell" approach in favor of personalized, relevant content that conforms to what your customers and prospects are looking for.
But in this context, how do you generate quality leads that you can then automatically feed into targeted content?
By using a tailor-made qualified lead generation solution that exploits the significant potential of LinkedIn in B2B!
Our solution, Leadin, optimizes your LinkedIn account and sends personalized messages to your targets, in order to get you phone calls and accelerate your growth.
You say to yourself "Yes but I will not sell on every call"? Indeed, but beyond the calls, we provide you with the email addresses of all the leads generated.
You can then integrate these qualified leads into your customer / prospect database within your marketing automation tool and start to feed them with content to advance them within your sales funnel!
Presentation of the main tools
Thus, building a marketing automation strategy in your company means first of all acquiring a powerful tool. Management of communication channels, lead optimization, customer database development, content creation … Many tools on the market seem to offer this type of functionality, but how to choose a tool adapted to the size and the technical maturity of your organization?
To support you in this process, we will present 7 marketing automation tools specifically adapted to SMEs :)
# 1 Sendinblue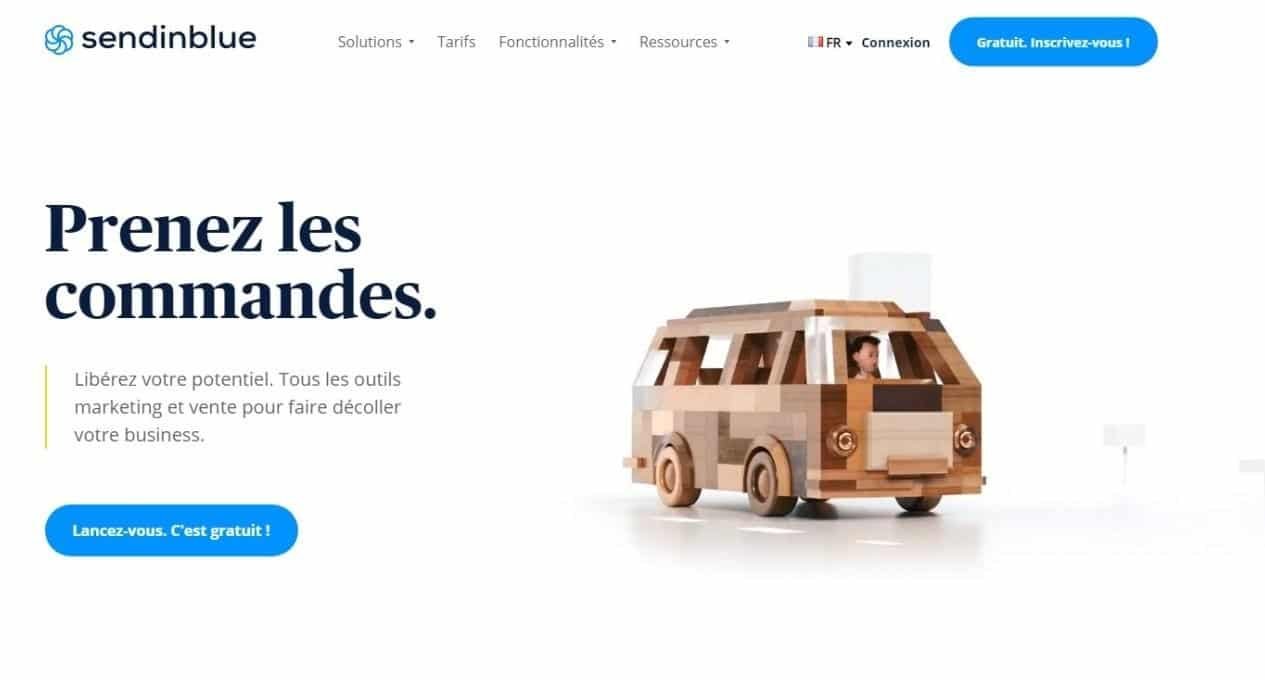 Originally a French solution mainly focused on emailing , SendinBlue has developed considerably functionally to become a complete marketing automation tool: landing pages, A/B testing, workflows,… A priori all the features you will need are present.
The strength of Sendinblue, which has enabled it to develop very rapidly in recent years (fundraising of € 140 million at the end of 2020), is its excellent quality / price ratio. The prices change depending on the number of emails you want to send.
# 2 HubSpot
If you analyze the marketing automation software market, the leader with the most active growth is without a doubt HubSpot.
In terms of features, the publisher stands out by offering the most complete marketing automation solution:
● Contact management and email marketing
● Creation of automated multichannel campaigns and activities
● Lead tracking and detection tools
● Creation of landing pages
● tracking and reporting of social networks
HubSpot offers inbound marketing resources and best practices in its FAQs and blog, the tool offers quality support.
Easy to use and relatively intuitive, there is a free trial version to test the tool.
# 3 Mailify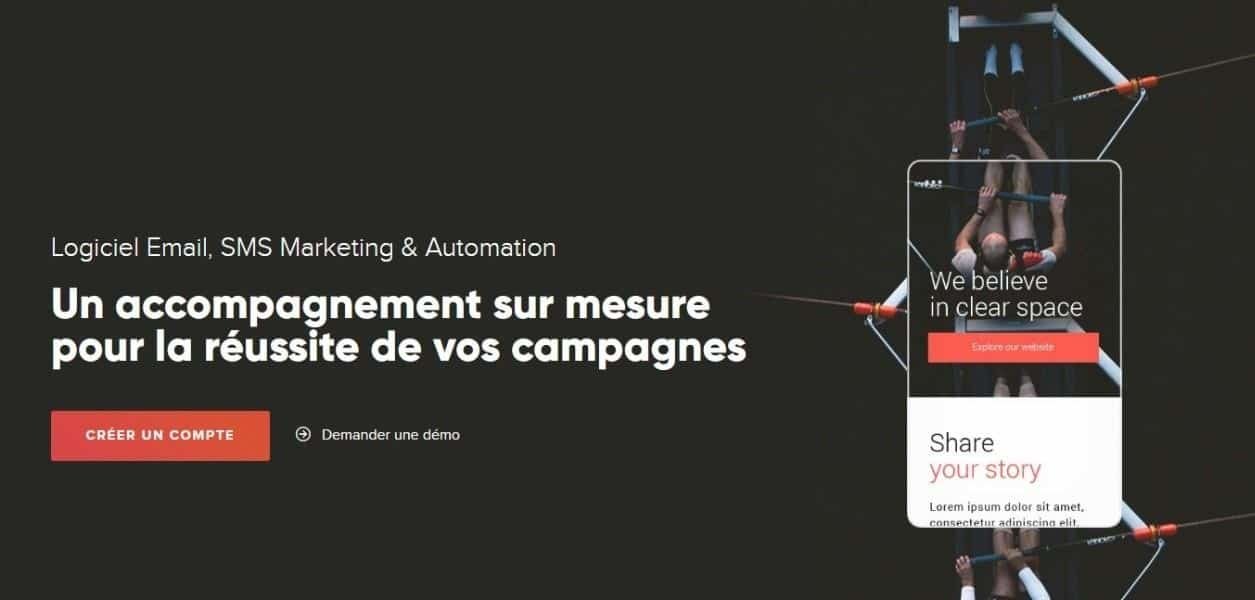 This French emailing tool offers the main marketing automation features you may need.
This translates into a lot of ready-made scenarios, like a welcome message after registration or a birthday message. It is also possible to set up automated campaigns by email and sms. Sarbacan exists as a free trial and at 59 € for 5,000 contacts.
Mailify is positioned as a fairly high-end tool, when you start, a specific advisor is assigned to you and accompanies you in your handling of the tool. This positioning is reflected in the prices which are slightly higher than these competitors.
# 4 Etarget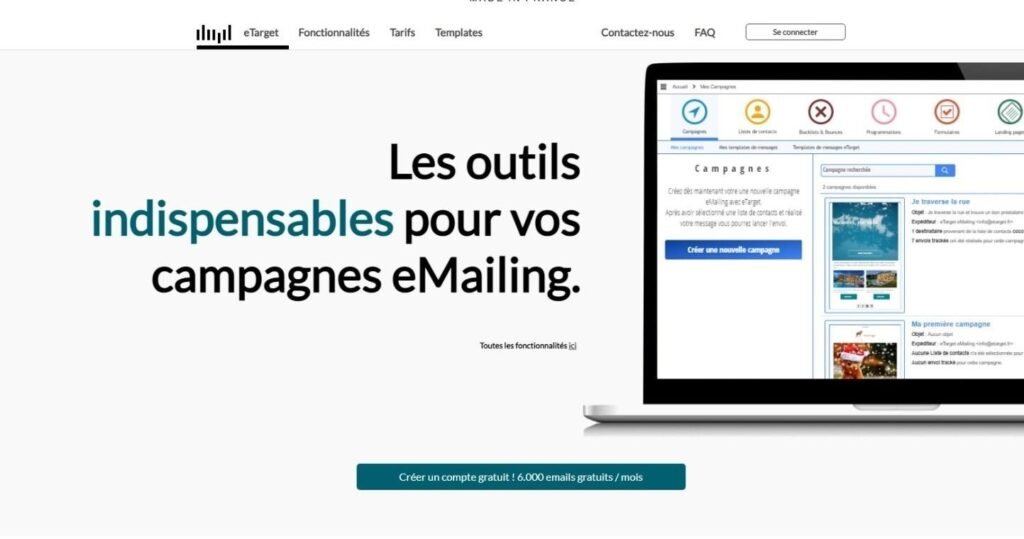 Etarget has worked as email marketing software for years, but now it goes far beyond sending newsletters.
Etarget allows you to implement a truly automated digital marketing scenario. You determine a trigger and the app manages to have you automatically send an email or text to a contact whenever you want. The trigger can be:
● a date,
● a birthday,
● a form validation
● manual insertion of the contact in the list of recipients.
The solution also offers to manage your forms for collecting your leads or for any type of registration on your website.
In terms of prices, here is what Etarget offers:
❖ Free up to 6000 emails.
❖ 10,000 emails: € 15 / month
❖ 40,000 emails: € 20 / month
❖ 80,000 emails: 35 € / month
# 5 Webmecanik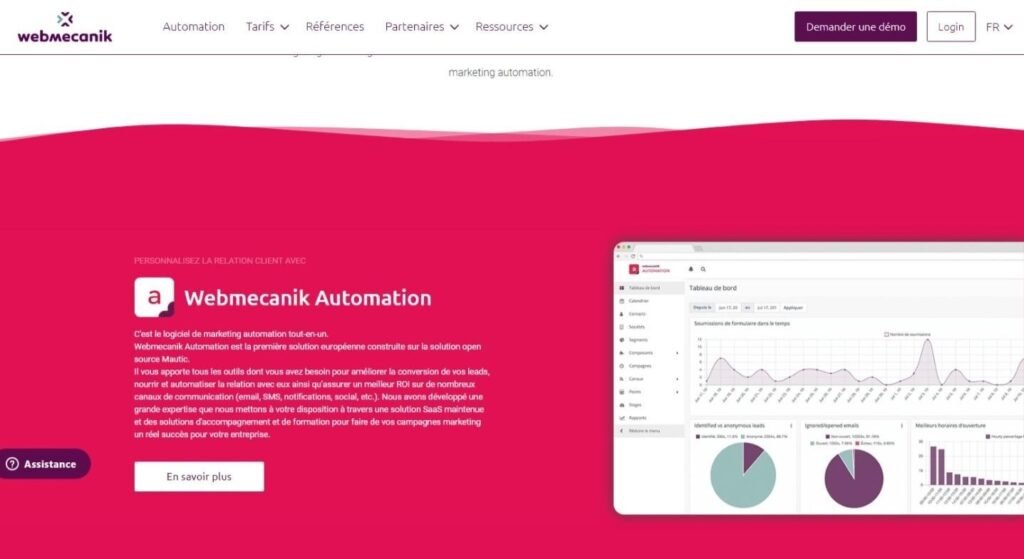 Webmecanik offers marketing automation tools and personalized support during the implementation of the solution. Here are some characteristics of this very powerful tool.
● Based on the open source solution Mautic, of which he was the first contributor.
● Offers a large number of upgradeable features.
● Allows you to analyze and track your visitors, convert your prospects into customers and maintain relationships – all with guaranteed efficiency.
The monthly price for 10,000 contacts is 400 €. The price changes depending on your number of contacts.
# 6 Agile CRM
Agile CRM was originally more of a commercial CRM that has grown and now offers marketing automation options. If you are looking for a commercial CRM adapted to SMEs and which offers the implementation of a few workflows, you will be satisfied!
Its prices:
● Free for 1000 contacts.
● 10,000 contacts: € 8.99
● 50,000 contacts: € 29.99
# 7 Plezi
Created in 2015, Plezi helps you collect leads through the distribution of intelligent content. This tool of full marketing automation , provides you with the following features:
● You can create personalized lists to better reach your target audience; create emails, forms, landing pages and CTAs.
● Coordinate your campaigns on social networks and follow your visitors.
● Advanced reporting tools.
Don't worry if you are new to it, Plezi offers you personalized support and a wide range of resources to help you implement your strategy. Regarding the price you have several offers. The first offer is € 249 / month including 1,000 contacts and the second offer is € 499 / month including 5,000 contacts.
"Made-for / with-you" services
In this jungle of all the SaaS solutions available to marketing automation, it can sometimes be difficult to navigate. This is why LeadIn has developed a service " 100% made-for-you "B2B acquisition through conversion funnels on LinkedIn.
Indeed, beyond the proprietary SaaS technology which will soon be available to the general public, these are emerging subjects, accelerating due to the current economic situation.
So, even if you have the tools, and know which tools to use, results are not guaranteed… because many steps are essential to the success of marketing automation campaigns.
If you want to know more, to see that LeadIn takes care of everything for you (prospecting and / or sourcing of candidates via LinkedIn), packs are at your disposal.
You may also be interested in these articles