The power of LinkedIn in B2B is no longer to be demonstrated, with more than 700 million professional users, the platform is an ideal prospecting ground. LinkedIn offers you the possibility to use this qualified data through different forms of sponsored campaigns, this is the function LinkedIn ads .
Depending on your objectives, notoriety, consideration or conversion, the professional social network provides you with a complete tool to generate leads automatically. Disadvantage ? The high price of these campaigns, which, compared to the cost per lead, is sometimes very important …
# 1 LinkedIn Ads – Configure your account
To get started, you'll first need to access the Ad Account Dashboard from this link after signing in from your personal LinkedIn account.
Click on "Create an account"

Enter the currency in which you will pay the advertising bills

Enter the LinkedIn company page to be linked to the account by typing the URL or name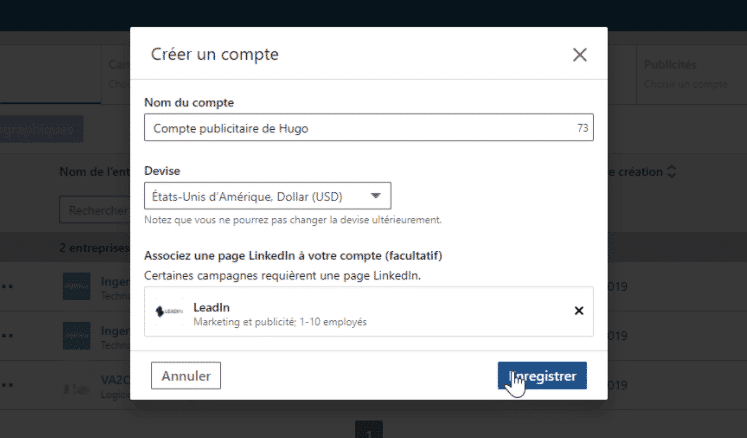 If you don't have a business account, you can't publish your campaign. But if you don't have a business page yet, you can continue without making a choice and make your selection during the campaign creation phase. Note that it is possible to create several campaign groups, depending on the different entities for example.
# 2 determine your goal
To create a campaign, you can use the Create Campaign button in the upper right corner. LinkedIn offers 3 "families" of objectives, from which the formats proposed below will derive.
Notoriety – Make yourself known
Consideration – Engage your audience to your content and drive traffic to your site
Conversion – Generate qualified leads from your campaigns on your website or directly on LinkedIn via the "Leads Gen form"
No question to ask yourself if you are here to automatically generate qualified leads!
# 3 Identify your target
Via the "classic" criteria
Targeting is one of the most important steps because you want to deliver your content only to professionals who match your buyer persona.
LinkedIn offers out-of-the-box audiences for marketers who aren't very familiar with the panel or don't have the time. We strongly recommend that you take the time, especially when you are going to find out the cost of these campaigns.
You are then taken to refine your audience by combining the following criteria:
Location: You can target specific countries, cities and districts here.
Language : Make sure that your content is appropriate for the language spoken by your target.
Education & Professional experiences: Very important, this is the main value of this tool: to offer your services only to people who have an influence on the decision to buy your solution.
Business : If you are targeting specific businesses.
Once your audience is created, you can save it if you want to reuse it in the future.
Our tips for creating your audience:
Note that you can target based on groups and even interests. This will help you find people who have the same interest that your post will bring them.

On LinkedIn, quality comes first! The platform prefers a smaller target group of around 600,000 people or less. Favor several campaigns adapted to several audiences, by adapting the content.
Using the: "Matched audiences"
This option departs from the classic campaign creation process but is very interesting: it allows you to send campaigns to contacts already in your CRM. You can thus upload contact lists in the form of email addresses or company lists.
This option is ideal for developing Account Based Marketing strategies.
If your sales team is looking to convert specific businesses into customers, you can help by creating campaigns to influence key people in those businesses.
The first step is to upload the file with the companies we want to influence and then refine the audience by applying other targeting criteria based on the attributes of the user (for example, we could specify the desired function and years experience).
By using our automated prospecting solution, you could import the lead lists we provide to you and use this feature to feed those leads with relevant content.
LinkedIn also allows us to create lists of users who have visited individual pages on your website. The configuration is quite simple: just enter the corresponding URL patterns. You can add multiple URLs using the (OR) functions.
# 4 define the format of your campaign
We observe on LinkedIn high click-through rates compared to other social networks, it is not uncommon to obtain rates between 0.5% and 2%. Why ? The ability to target content to a specific audience reinforces the relevance of campaigns, which therefore generate more interest.
To optimize your click-through rate and, ultimately, the leads generated, you must choose a format suited to the message you want to send. For this, LinkedIn offers several formats, more or less "aggressive" for your target.
For lead generation, LinkedIn offers the following formats:
Image or video – A single image or video that appears on the News Feed.
Carousel – Multiple images that you can scroll through
Message & Conversation Ad – Ads served in LinkedIn messaging, as below. These formats are perceived as more intrusive by users. This is why we advise you to favor a solution for sending inmails adapted and automated for more relevant campaigns.
The main key is to TEST, TEST, TEST. You may have an idea of what will work well, but your market will ultimately decide which message will work best.
Here are some tips to optimize your content creation:
Make sure your ad is strong, impactful, short, and result-oriented. Short text works well. Remember that you have 150 characters before the "See more" link cuts off the rest of your text. Your value must therefore appear clearly in these 150 characters.

Make sure the ad is optimized for mobile; look at the size of your graphics and do some tests (again)!

Use video, this format allows for higher engagement rates, better click-through rates, and gives the possibility to provide more information about your offer or your principal, directly in the information feed, on a platform your prospect trusts.
Capture leads with "Lead Gen Forms"
LinkedIn allows you to maximize the conversion of your campaigns through lead generation forms. Concretely, when a prospect is interested in your content, he clicks on the "Download" button if you are promoting an ebook, or "Subscribe" if you are promoting a webinar.
The user thus opens a pre-filled form with the information entered on his LinkedIn account and only has to click on the "Send" button, which saves him from having to enter his data manually.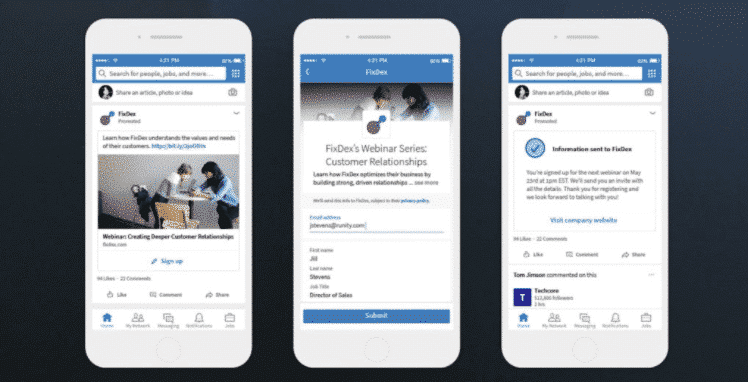 This option is very important, it optimizes your conversion rate compared to the ads that send the user to your landing page. The reason is that LinkedIn rewards you for keeping users on their platform (instead of sending them to a landing page "outside" the platform.
# 5 manage your budget
While LinkedIn's advertising costs vary by advertiser, LinkedIn requires companies to bid at least $ 2 for cost-per-click (CPC) and cost-per-impression (CPM) campaigns. On average, however, businesses pay $ 5.26 per click and $ 6.59 per 1,000 impressions, as well as $ 0.80 per send for InMail campaigns. To this applies a minimum budget of 10 € per day.
What factors influence the cost of my campaign?
According to LinkedIn, two main factors influence your campaign budget:
The target audience : When you advertise on LinkedIn, you are competing with other advertisers to serve your advertisement. If you are targeting a high demand audience, you can expect higher costs due to the value of that audience and the increased competition to get their attention.
Relevance of the ad: A high ad relevance score can reduce your spend because LinkedIn wants to deliver relevant and engaging ads to users.
Which auction format to choose?
LinkedIn allows you to bid on the click and the impression, but also recently on the lead! Here are more details to understand these formats:
Cost per click (CPC): You pay when people click on your LinkedIn ad. This is an interesting option if you want to generate significant traffic to a landing page.
Cost Per Impression (CPM): With this model, you pay for 1,000 impressions. When people see your ad, you pay to watch it, but not to interact with it. This corresponds more to a goal of notoriety.
Cost per lead: This model will promote the distribution of your campaign to the prospects most likely to fill the "lead gen form" (what interests you here!)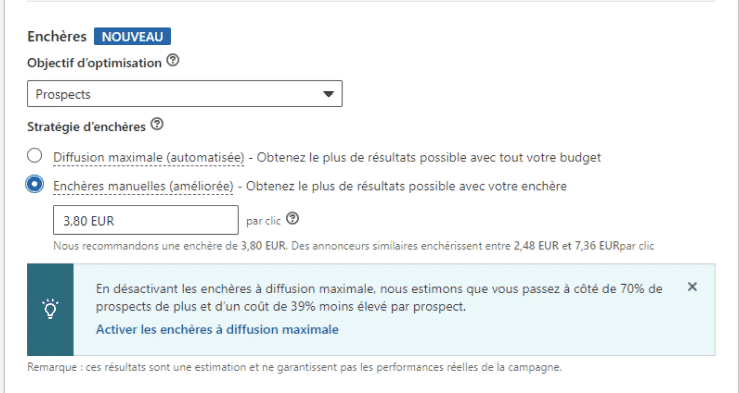 The potential for B2B prospecting on LinkedIn is enormous… but not everyone has the marketing budget of a multinational. As you can see, with a cost per lead of around € 6 – € 9, the lead generation tool offered by LinkedIn is very expensive and requires internal skills to correctly define the various criteria of your campaigns.
Fortunately, other solutions exist to exploit the potential of the platform. By promoting the sending of automated message sequences and by subtly adapting the content to your targets, you will obtain a significantly higher cost per lead. Find out more about this in our Guide to prospecting on LinkedIn.
You may also be interested in these articles