Posting a job offer on Linkedln is a simple technique for finding and recruiting the best profiles.
LinkedIn has almost a billion users on its platform: that's as many potential profiles for you!
But how to stand out? How to find profiles that match you? What budget should you plan?
We explain everything in this article!
How to post a job offer for free on Linkedln in 5 steps?
There are 5 very simple steps to posting a job offer on LinkedIn:
Click on "post an offer" at the top right

Fill in the form

Detail the position you are opening

Define application options

Publish!
Let's take a closer look at each step:
1. Click on the icon at the top of the Linkedln homepage
First, connect to your Linkedln home page by entering your email and password.
Once logged in, on the top bar, click on "Jobs":
On the left, at the bottom of the taskbar, you will find the button to publish a job offer for free:
2. Complete the form
On the page that appears, fill in the empty fields with all the necessary information.
The first box to fill in concerns the post .
As you type, Linkedln provides suggestions to make searches easier.
It is necessary to mention the name of your company in order to be able to connect the offer to your company page .
Here, you must specify whether the position you are offering is on-site , remote , or hybrid .
To facilitate the search for candidates, you must mention the place of work (otherwise you will receive applications from Lille while you are in Marseille!).
Finally, you must also specify the type of job you are offering: part-time, on contract, temporary work, volunteer or internship.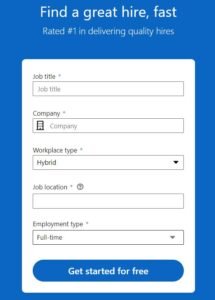 Once all the boxes are filled, just click on " Get started for free ", as you can find on the image above.
3. Complete job details
After mentioning all the job information, Linkedln directs you to a " Job Details " page.
In this window, you should be both creative and persuasive in providing a full job description.
For the offer to be complete and for you to find the right candidates, you can add skills (10 maximum) .
Don't forget that there are some legal requirements as to what information must be included in your job posting!
Click " Continue " after completing this step.
4. Complete the application options
In this step, you must specify whether you wish to receive applications by email.
If so, please enter your e-mail address in the corresponding box.
Next, you will need to add screening questions in order to get the best candidates for the position.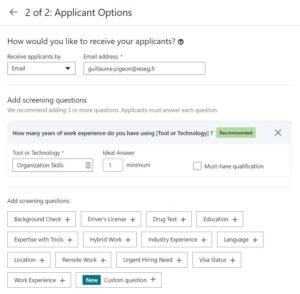 Do you only want to recruit sales people who have a driving license? It's legal (if the position warrants it). LinkedIn allows you to select only candidates with the license.
5. Publish the job offer for free
In this last step, click on " Publish the job offer for free " to put everything online:

Our 3 tips for a successful job offer on Linkedln
Build your business brand
To make a successful job offer on Linkedln, you must first create a Company page .
With this page, you can benefit from:
Content sharing by publishing posts frequently

Visibility of your offers and your employees
Publish the job offer
You can write a post to highlight your job offer.
The " Skills assessment " feature allows you to encourage candidates to demonstrate their skills.
Establish a budget for the job offer
On Linkedln, you have the possibility to publish an offer for free.
But to promote the offer, you can opt for the paid offers, like Recruiter Lite .
Why Linkedln is a good platform to publish its offers?
Linkedln is a must for all candidates. You can find all the profiles, from the engineer to the commercial. It is accessible in more than 200 countries .
It's a good platform for posting your offers: as soon as you post a job offer, it quickly identifies the candidates who have the skills you are looking for thanks to the data indicated.
The budget for your job offers on Linkedln
How many free offers can you post on Linkedln?
On Linkedln, you can only post one active free job offer at a time .
It can appear in search results but also on Linkedln.
What are the differences between a paid or free job offer on Linkedln?
A free job offer on Linkedln appears in search engines and on Linkedln without being highlighted in relation to others.
Conversely, a paid job offer on Linkedln:
Attracts 3 times more qualified candidates thanks to more precise and broader targeting.

Can include the Sponsored tag and be placed at the top of the result (like when you do Google Ads for example).

Enjoys a privileged position in job offers.

Send instant mobile alerts to qualified candidates.

Allows you to use the video presentation function .
How much does it cost to post a job offer on Linkedln?
Posting a job on Linkedln is free .
On the other hand, promotional offers are offered:
This offer has the advantage of simplifying recruitment procedures. It offers 150 InMails per month . Its cost is 700 euros per month .
The Recruiter Lite Account
This option allows you to see up to 1,000 profiles . It uses 20 advanced filters at a price of up to 169.99 euros per month .
In addition to Linkedln, you can also choose to publish your job offers on certain paying job sites.
How to promote a job offer on Linkedin?
Here are some tips for promoting your job offer on this platform:
Work on your offers and target the right people

Use InMail

Go outbound
Let's take a closer look at each of these tips:
Publish relevant and well-targeted offers
Give as much detail as possible about the job description and the ideal candidate: the applications received will be of better quality.
Once all these points are defined, tag some people so that they can share the job offer.
You can choose to join Linkedln groups that will share your interests. For example, if you are recruiting real estate agents, there are many groups of professionals in the field.
Use LinkedIn InMail
InMails are a feature that allows you to promote your job offer directly in the messaging of profiles that match your position.
This is one of the solutions available with Premium Linkedln subscriptions .
This service allows you to send a message to other users without having their coordinates.
Outbound recruiting: a strategy to promote your job offer on Linkedln
Using Linkedln as a candidate sourcing tool is becoming essential.
To find the best candidates, the platform offers an HR recruitment method inspired by marketing: outbound recruiting .
The principle of this technique is to find yourself the profiles that meet the requirements of the position offered.
It's the same principle as a headhunter!
Prospecting with Leadin
To run an effective outbound recruiting campaign, you don't necessarily need to work with a headhunter.
Leadin is a tool that allows you to prospect potential candidates automatically .
How it works ?
You filter the best candidates from all the criteria entered in LinkedIn. Then you send sequences of automatic messages to your potential candidates.
For €97 per month , you can generate dozens of candidates per week for your HR department!
Not confident and don't want to learn how to use a recruiting automation tool?
You are not the first: we already offer dozens of clients an outsourced recruitment service!
From only €351 per month , we generate 500 qualified recruitment targets to contact!
Find out more about our outsourced recruitment service here.
These articles should also interest you: