LinkedIn is known as the most powerful B2B platform in the world with nearly 750 million users , 60 million of whom are senior decision makers .
So whether you want to network , find your ideal client , do cold prospecting , showcase your expertise , or educate other users about your products, LinkedIn is the place to be.
However, like in any other business, on LinkedIn too, if you don't prepare, it's just like preparing to lose.
In other words, you need to have a clear goal and a well thought out strategy to be successful.
Once you've come up with a plan for growing your LinkedIn business , you'll probably want to find a way to save time and money.
And it is from now on that you will revolutionize your business. 👇
LinkedIn automation is everywhere. You've probably heard of it. And you know how valuable it can be for prospecting and generating business opportunities .
It can save you hours , if not days , messaging people and exploding your social sales .
Pretty promise, isn't it?
Here's what we'll cover:
1. Develop your network according to your ideal customer persona + Sales Navigator
2. Maintain your network with publications + Hootsuite
3. Automate prospecting loops on LinkedIn and by Email with LeadIn
You are ready ?
Below are 3 things you need to do on LinkedIn to reach more customers , faster , and increase your business revenue !
1. Develop your network according to your ideal customer persona + LinkedIn automation via Sales Navigator
Sales Navigator is a paid subscription on LinkedIn. It is designed to help its user-sellers do their prospecting work more efficiently and get better deals .
But not only !
Sales Navigator gives you advanced options that can improve the quality of your targeting and prospecting.
When used to its full potential, it is the formidable weapon of marketing and social selling experts.
Let's take a look at some of its essential features, and why it's a great tool for automating the search for qualified leads for your business (with – almost – nothing to do)!
Access to "off-grid" connections (3rd degree)
One of the biggest benefits of the LinkedIn Sales Navigator automation tool, especially today with LinkedIn's new restrictions and limits , is the ability to extend your business reach outside of your network.
Namely, you can only view a limited number of profiles outside of your network.
Sales Navigator allows you to both visit an unlimited number of profiles , but also to " unblock " your prospects' information, for a maximum of 25 profiles per month. So you can better understand your prospects and make more meaningful connections.
In addition, a LinkedIn Sales Navigator subscription entitles you to almost 20 paid InMails per month. You can thus get in touch with your 3rd degree relationships and establish important business relationships.
Also, these InMails are based on a monthly credit . This means that if someone replies to your InMail, the one you sent first will not count towards your monthly limit.
To learn more about InMails, the difference between " free " and " paid " InMails, as well as discover proven copywriting templates , check out our complete guide to LinkedIn InMails .
More targeted research
Sales Navigator gives you the possibility of ultimate targeting!
With 24 filters only for " Find prospects " at your disposal, you can narrow your audience until you get the best results .
Imagine how much you can narrow down your search and select quality leads who will almost certainly be interested in what you have to offer:
However, before you embark on your search for your ideal client, learn how to use the filters in the LinkedIn Sales Navigator automation tool (link to our expert user guide later in this article!).
Prospect recommendation
The " Lead Recommendation " feature suggests relevant leads based on your sales preferences, search history, profile views, and previously saved leads.
An overview of these targets may be available on your Sales Navigator home page:
Then by clicking on " See all ", you will discover a list of prospects tailored to your activity: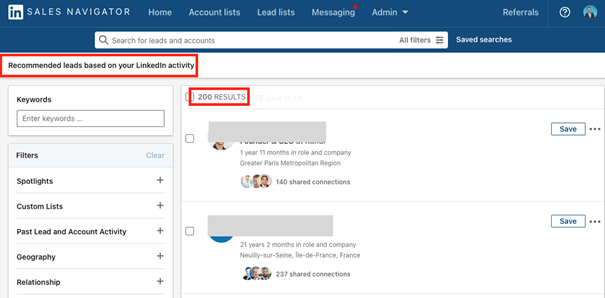 In short, the more you use Sales Navigator, the more it will use the data to do useful targeting for you!
Powerful insight into potential sales opportunities
Throughout your activity on Sales Navigator, whether it's searching for leads , registering them, and connecting with them, Sales Navigator will keep you up to date with updates to your network such as:
Job changes
Company updates
Relevant connections and "hot" prospects
This way you will always be up to date with the latest trends in the industry .
To go further and discover all the best features , check out our Sales Navigator advanced user guide so that you too can become an expert!
CRM integration and customer relationship management
A CRM brings together data and interactions of prospects and customers across all channels in one place. Centralized data management helps businesses improve customer experience, satisfaction, retention and service.
In short, a CRM will help you understand the needs of your prospects, segment your audience, and therefore how to best target them .
That being said, Sales Navigator integrates with the following major customer relationship management software:
Salesforce CRM
Hubspot CRM
SugarCRM
SAP CRM
Pega CRM
Oracle CRM
Dux Soup
Microsoft Dynamics CRM
NB: Our edition recommends the Twilead all-in-one CRM, being unlimited and supporting direct integration with LeadIn . Ideal for simply " scraping " and " nurturing " your LinkedIn network with marketing automation , and much more …
2. Maintain your network with publications + Hootsuite
Hootsuite is a social media management platform where you can do everything from creating great content, scheduling posts on each social network, managing team members and measuring ROI. .
It offers you the possibility of:
Create, schedule and send posts
Manage all your social media channels
Plan upcoming campaigns
Stay tuned for incoming social media posts
Measure your performance and analyze the results
Extend your social reach
Stay on top of the trends of each social network
Optimize your advertising budget
Etc.
Social media presence is crucial for any type of business. Today, as businesses and their employees have multiple accounts across multiple social media platforms, it becomes more difficult to post great content and plan a good strategy without using an automation tool.
In the end, trying Hootsuite doesn't cost you anything. Literally.
It is the only social media management platform that gives you a 30-day free trial , as well as the ability to continue to use it for free, on a limited basis.
Give it a try!
3. Automate prospecting loops on LinkedIn and by Email with LeadIn
Surprisingly for all traditional sellers, cold emailing and / or making contact on LinkedIn have proven to be the most effective ways to generate new leads and it is also a way prized by startups for their growth strategy.
However, this only works if you've targeted your audience well, come up with a very elaborate strategy , and have proven messages that you're going to send.
This is where LeadIn comes in. It is a LinkedIn and Email Automation Tool, an Email Extractor and an Email Finder , all in one software.
Discover the creation of a first campaign with LeadIn .
Prospecting with LinkedIn
To prospect on LinkedIn, for example, you need to connect with your prospects and send them a message .
As seen before, you can also use the paid or free InMail options, depending on whether you have a basic or paid LinkedIn account.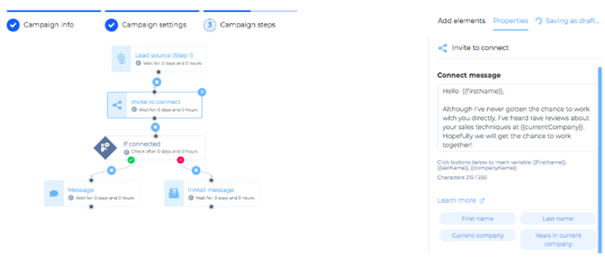 As you can see, LeadIn gives you the ability to personalize login invitations , LinkedIn messages and InMails for each prospect, and fully automate this process.
LeadIn supports "basic" LinkedIn accounts, but you are better off upgrading to a Premium and / or Sales Navigator subscription to achieve more volume of activity and engagement on the platform.
It goes without saying that Sales Navigator is also much more advanced when it comes to filters compared to a classic LinkedIn profile, and therefore allows your campaigns to be more effective in their targeting.
E-mail prospecting
LeadIn personalizes the sending of email sequences and combines it all with the functionality of LinkedIn.
Email engagement involves having personal email addresses, emails imported through a CSV file, and business emails discovered and verified using LeadIn's email discovery and verification feature.
Here's an example of a campaign that combines LinkedIn prospecting with professional emails.
As you can see in the image, LeadIn allows you to simply use multiple channels to reach your prospects.
Check out complete examples of multi-channel sequences .
Email discovery and verification function
With its Email Discovery and Verification feature (see above), LeadIn manages to collect data, 'try' all possible business email options, and verify them, even without yoube connected with the prospect on LinkedIn.
This is what your lead list would look like on LeadIn, with verified email addresses in green, marked "✔️":

More information on email discovery and verification .
Hyper-personalization tool for images and GIFs
With LeadIn's image and GIF hyper-personalization tool, you can offer products and services in a less conventional way, post funny jobs, wish your customers a happy vacation, or organize an informal meeting …

This option is available for messages , emails , and InMails on and outside of LinkedIn.
You can import any image or GIF into LeadIn and start the process with just a few clicks:
As you can see, there are options for:
" Add me ": import your LinkedIn profile picture
" Add lead ": import your prospect's LinkedIn profile picture
" Choose custom logo ": import a logo from your computer
" Add lead's logo ": import the LinkedIn profile picture of your prospect's current company
" Add text ": Add text and customize it using all the tags available in LeadIn. Bonus: if you import your leads through a CSV file, each column in your CSV file also becomes a tag!
Check out our full guide to using image and GIF hyper-personalization .
Smart sequences
LeadIn is the only 100% cloud-based prospecting tool that offers a multi-channel approach through smart sequences . In other words, it combines LinkedIn messages , emails and InMails with other LinkedIn functions such as invite to connect , profile view , and profile tracking , thanks to the 'addition of " if / then (condition) " conditions.
The "if / then (condition) " step allows you to apply several scenarios to your prospecting campaign. In short, it ensures that you will contact your prospects in one way or another, whether that is by connecting with them on LinkedIn, sending them an email or subscribing to their profile on LinkedIn to remind them. subtly as you try to contact them.
For example, let's say you create a sequence like this:
"Invitation to Connect" → "LinkedIn Message" → (followed) "LinkedIn Message".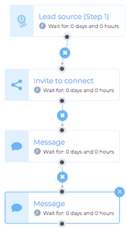 Here, if the prospect does not accept your connection request , the sequence will not go further.
With smart sequences, the same flow would be presented like this:
1. "If the connection request is accepted" → "Send a message", and,
2. "If the connection request is not accepted" → "Discovery and verification of the e-mail" → "If the e-mail is verified" → "Send an e-mail", etc.
As you can see, your smart sequence will not stop but will continue with other available / possible paths to your prospect.
And this, 100% on autopilot . 😎
Check out our full guide to smart streaks .
Integrated inbox
Whether your prospects' responses come from LinkedIn, Sales Navigator, or emails, LeadIn has a built-in inbox. Its role is to bring all of these answers together in an orderly and organized manner.
You know where your prospects' responses are coming from at all times thanks to the well-defined chat icons . It is up to you to choose where you want to continue communication – in the integrated inbox or directly in the inbox of the channel affected by your interaction with your prospect.
Ideal for following, relaunching, and above all, NEVER miss a sales opportunity again!
Check out our guide to managing your LinkedIn inbox like an expert.
Conclusion
Automation is here to help you grow your business while ensuring consistency in customer experience and opportunity costs .
In other words, with the right linkedin automation tool , you will save and earn money while generating new opportunities for your business to grow.
To learn more about how LeadIn can help you get the most out of your LinkedIn experience, schedule a demo call with a representative from our team by clicking here .
We look forward to opening up a world of new prospecting opportunities for you!
You can also go further with your lead generation by reading the following guides :