How to Achieve the Best Performance with Lead Generation on LinkedIn: A / B Testing
Overview of lead generation on LinkedIn
It is increasingly difficult to generate leads on LinkedIn with "classic" prospecting tactics.
How is it possible ?
Well, people are suspicious of cold emails and outreach posts on LinkedIn.
LinkedIn's new limit prevents sending more than 100 login invitations per week, and there are more advanced tactics you can use instead.
Below, we'll look at setting up A / B testing in your prospecting campaigns to identify your most effective sequences and improve your bottom line, even with the new LinkedIn connection limit.
But first, here's what you need to know about prospecting on LinkedIn.
The death of a classic B2B lead generation

The classic cold approach today has a success rate of< 1%.
Prospects instantly block ads, ignore 80% of sponsored content, and are less likely to "cold" open emails as well.
Traditional sales tactics, like meeting face-to-face over coffee, are less possible these days.
We live in the age of information available anywhere, anytime. In most cases, your prospects are more knowledgeable about your product than you might think.
On the B2B side, sales are becoming more complex . With your prospect being on as many social channels as you can imagine, outreach strategies like multi-channel and hyper-personalization are more effective than ever.
Add to that networking which is also becoming more and more important.
Now let's take a look at the more " modern " lead generation solution.
The rise of modern lead generation
Modern lead generation generally consists of 3 main elements:
Business influencers (B2B)
Content marketing combined with a smart approach
Let's take a closer look.
Social selling
76% of shoppers prefer a conversation on social media
84% of executives use social media for their purchasing decisions
90% of top salespeople use social selling tools
(Source: LinkedIn Sales Solutions Blog 2022 )
Business influencers (B2B)
A business influencer is someone who works for a business and builds their own personal brand by talking about that niche and positioning themselves as an expert.
82% of buyers are more confident when a senior executive is active on social media and recommends a product or solution
92% of buyers engage with sellers who are considered thought leaders
Influencer marketing has an ROI nearly 6 times higher
Content marketing combined with a smart approach
The sales closing rate is 2x higher for inbound sales than in outbound sales
84% expect brands to create content
Creating engaging content is the # 1 challenge for B2B marketers
Sending authoritative content (eg, a "lead magnet") is great for generating leads. An intelligent sequence can automate this action.
Prospecting on LinkedIn is constantly evolving
You always have to innovate if you want to be successful in generating leads on LinkedIn.
The best thing you can do is constantly try new things, keep up with trends, competitors, etc. to see where you can innovate.
When doing prospecting, here's what you need to consider.
5 essential points for targeted prospecting
1. Target – Personality of the ideal customer (in LinkedIn filters).
2. Temporality – Focus On Prospects Who Are Interested NOW!
3. Speech – Reason for prospecting and commercial sequence.
4. Tactics – Adapt to the best tactics currently in use: Constant A / B testing to optimize and stay up to date (which we will see below).
5. Tool – The best social media and action support tools to use.
Check out our best practices on LinkedIn for more information on lead generation in social selling.
Covering the topics in the above list on a regular basis, now we'll take a look at what A / B testing is, why, and how to put it in place to maximize your prospecting results .
A / B testing – what exactly is it?
A / B testing , or " split testing ", is a randomized testing process in which two (or more) versions are sent to different target users to determine which one gives the best results .
Whether it's writing a prospecting message , sending an invitation to connect on LinkedIn or launching a new website , it is difficult to rely solely on your intuition.
It's best to avoid wasting time and money , and even valuable leads .
For that, there is A / B testing , a reliable way to make a data -driven decision (KPIs) and optimization .
But they can also be confusing! If you don't know how to use them and read the data correctly, you might be misled.
Let's make sure that doesn't happen! In this article, you will learn:
The advantages of A / B testing
How to perform the tests correctly
The right way to analyze results so that they don't mislead your strategy
· How to apply " split testing " to your lead generation strategy in the smart sequences of LeadIn.
Let's go !
Why should you consider doing A / B testing?
The advantages are many. Let's review its benefits when it comes to lead generation .
A simple analysis
The best advantage of the A / B (C / D / E) test is probably its simplicity of statistical analysis.
The numbers don't lie.
If you've done everything right (keep reading, we'll get to that later), figuring out the winner of your test will be almost natural.
Works on a relatively small sample
It is not necessary to do extensive research to understand what gives the desired results.
It is true that more data is generally preferable for analysis in order to identify a given variation, but it is not essential .

Once the test is complete, it will be obvious to identify what your potential customers found most engaging and interesting .
Sometimes it even happens that, before waiting for the test to be completed, one of the options already turns out to be an absolute winner .
However, we recommend that you wait until the end of the test before drawing any conclusions (see below for the most common errors during A / B tests) !
It is a multifunctional tool
You can A / B test just about anything .
For example, in LeadIn, you can create up to 5 variables for Login Invitations, InMails, Emails, and LinkedIn Posts, and measure what triggers your prospects to take what you consider a desirable action. .
These are the A / B / C / D / E tests :
You can experiment with the message text, subject line, message body , signature , links , call to action , etc.
Keep in mind that you don't have to test everything right away.
You can gradually change the preferred option and A/B test it repeatedly.
Increase in conversion rates
Last, but not least, the increase in conversion rates!
By using A / B testing , it helps to find the best way to present yourself and your product to the market.
You may find that potential customers respond more to certain qualities, without even considering your unique selling point to begin with.
Use A / B testing to experiment and market these characteristics. In this way, you will provide your customers with a better experience, and you will instill confidence in your brand and your business.
When your customers see that you provide them with value, your conversion rate will skyrocket.
How to set up the A / B tests?
In LeadIn, you can test the whole message (LinkedIn message, email, InMail, and invitation to connect), part of it (like a certain paragraph, subject line, signature, image and GIF), or the turnaround time between the above steps.
We recommend that you only test one of the above steps or items at a time .
This is because it is more difficult to draw conclusions if you test several different messages at the same time. You simply cannot know what influenced a certain action and to what extent.
The same is true when you test a single element of a post. For example, if you want to check which call to action works best, make sure the rest of the message body stays the same in all variations.
If you want to test another part of the message, the subject line or the signature, you should perform a separate A/B test for each.
What can you test in "split test" in LeadIn?
Let's go over everything you can do in split testing in LeadIn and why you should do it:
| | |
| --- | --- |
| A / B test in LeadIn | Results |
| Subject line (Emails and InMails) | Manipulate subject line text, length, emoji, personalization, and more. Test which subject line affects the desired open rate. |
| Images and GIFs (Emails, InMails, LinkedIn) | Change the images and GIFs , test the personalization, add or modify a single of the personalized elements, etc. Check which images and GIFs influence response / conversion rates. |
| Writing style (in all formats) | Experiment with different writing styles and tone of voice depending on your target audience to increase the response rate. |
| Formatting (all formats combined) | Check whether dividing the body of the message into small paragraphs, with or without titles, the font color, everything has an impact on the expected results. |
| Call to action (in all formats) | Check which call to action gets the most conversions. |
| "Depth" of content (all formats combined) | Check whether your audience prefers long or short content. |
| Invitations to connect | Send blank login invitations, versus personalized messages to see what people are responding to the most. |
| Paragraph (in all formats) | Edit the key paragraph in the body of your post to check your prospects' behavior and see if it is delivering the results you expect. |
| Message body (invitation to connect, LinkedIn message, InMail, Email) | Send completely different message to see which one works best on response / conversion rates. |
| Time limit | Check if the delay between messages affects response / conversion rates. |
| Connections | Insert different links and see if your prospects are interested. |
| Signature | Include in your signature links or other texts likely to increase requests for calls and demonstrations. |
How A / B tests work (example)
In LeadIn, you can create up to 5 different variations to test at each step.
Of course, you can edit any post at any time after you've launched a campaign.
However, this is not recommended unless it is a typo or a minor change that cannot significantly influence the results.
In the following sequence, we tested how 3 variations of login invitations affected acceptance rates .
Variation A of the invite to connect was sent blank (no message), Variation B with a generic message, and Variation C with a more personalized message using one of our favorite strategies (scrapping LinkedIn surveys and commitment of participants).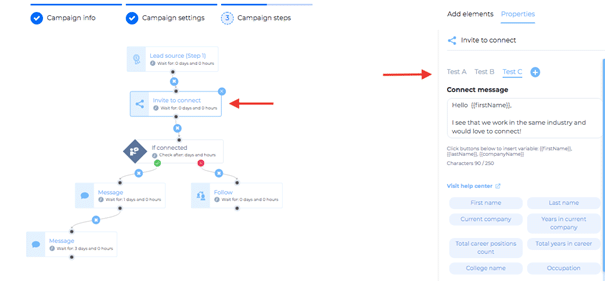 We sent out a total of 100 invitations to connect . The system randomly distributed variant A to 33% of prospects, so 33 prospects, variant B to 33 other prospects, and variant C to 34 prospects.
And then we waited for the campaign to end.
How to read the results?
If you are registered with LeadIn, go to the Advanced Reports page.
Select the campaign for which you want to check the results.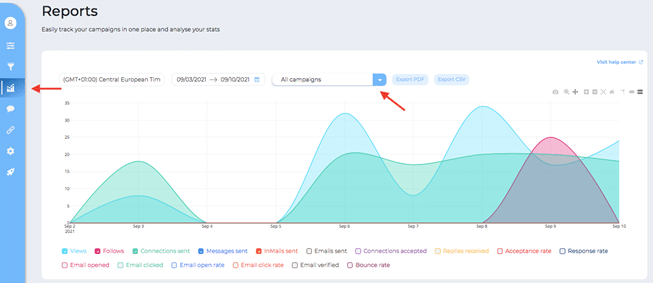 Scroll down and check the step you were testing:
From this analysis, it is clear that Variant C achieved the highest% acceptance rate .
This is a simple example of A / B (and C!) Testing.
In other more complex cases, consider taking other factors into consideration as well.
For example, a certain post with a call to action might have gotten the most responses , but the other had the most demos / calls .
The end result is the most important.
The 4 most common test errors (beware!)
1. Don't test too many items at once
As stated above, don't get carried away too quickly and try to experiment with several items or steps at once .
You will be in a situation where you will not know what factors influenced the result. Therefore, your deduction could be completely wrong .
Test a step or item, and then, if necessary, A / B test on another step or item until you get all the answers you need.
2. Start A / B tests too early
We always recommend that our users wait until the entire campaign is over to designate the " winner ".
If you have a larger sample and you're in a hurry, you can set a time limit and test the results after that time has passed.
However, it happens that the most interesting variant at the start turns out to be the least interesting later on. Therefore, the best practice is to wait for meaningful results .
3. Completely ignore the other results
As mentioned earlier, depending on what you're testing, don't be blindly guided by the numbers.
For example, you are testing the subject of an email . Variant A has the highest open rate , while variant B has the highest response rate or generated demos .
Which of the two is the winner?
The one that gets you demos and conversions , naturally. That's your goal, isn't it? So take into account all the results , and not just the item you are testing.
4. Do not test for delays
Do you think that the timing and frequency of your contact and follow-up with your prospects are not important? Think again.
This is exactly the reason why we introduced this option in LeadIn .
Timely follow-up or follow-up is crucial . At the same time, be careful not to spam your potential customers.
If you have two or more assumptions about what might be "the right dosage", do an A / B test.
Conclusion
So, are you ready to get more results in your prospecting with this formidable weapon of A / B testing?
Whether you use an automated prospecting tool or do it manually, A / B testing can give you a quick understanding and help you make a data -driven decision.
If done correctly, it can dramatically improve results and even help you discover something you didn't know about your product or target audience.
To learn about the A / B test function of LeadIn and learn more about how it can bring important information to your lead generation , take advantage of 14 days free trial on LeadIn and book a demonstration with our teams!
You may also be interested in these articles