The 11 Best LinkedIn Prospecting Tools for Lead Generation in 2022.
LinkedIn automation refers to using tools to automatically send connection requests , follow-up messages, and any other activity that you would otherwise have to manually perform on the platform.
Tools like LeadIn allow you to safely put your lead generation and prospecting campaigns on autopilot while you focus on other parts of your business.
Here's why you should consider using LinkedIn prospecting tools:
They make you win time because you won't have to manually log in to your leads and send login requests one by one.
They bring customization at the mass approach. Thus, your interactions with users and your awareness messages will appear much more natural , regardless of the number of people you contact.
They automatically generate reports for your prospecting campaigns on LinkedIn . So you can see at a glance how many of your prospects have responded, responded and converted.
The A / B tests become easier, as you will be able to experiment with different approach requests and different tracking models to see which ones get the most responses.
They integrate with others marketing and lead generation tools . By combining your LinkedIn automation tool with other marketing tools like Zapier and Integromat , you can bring a truly multi-channel approach to your LinkedIn marketing.
In fact, you already know the benefits of LinkedIn automation for lead generation.
Maybe you have also tried some of these tools already … and something is wrong .
Some of them lack obvious features, are not secure, or are just plain hard to use.
You are ready to start generating leads by autopilot . You just need the right LinkedIn tool to help you achieve this.
If so, we're here to help.
Here are some of the best LinkedIn automation tools to start generating leads in 2022:
LeadIn
LinkedIn Sales Navigator
Phantombuster
TexAu
Dux-Soup
Zopto
MeetAlfred
WeConnect
LinkedHelper
GrowthLead
Prospectin
Let's start with:
LeadIn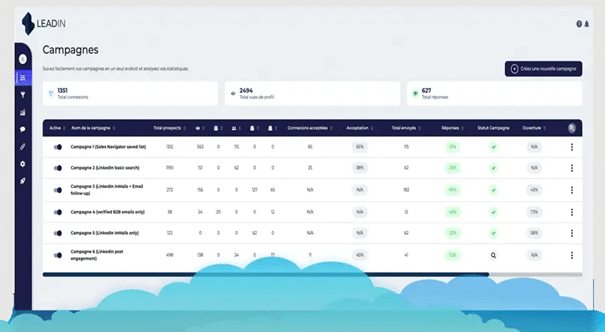 Yes, that's us. But hear us: LeadIn is pretty amazing.
It is the most secure LinkedIn tool on the market (bold claim, but we can prove it). He is great convenient because it runs 24/7 on your computer (or at specific times, depending on your settings), and it is extremely easy to configure . All this being invisible and undetectable by LinkedIn, and without having to be in front of your workstation.
This is what we use, and we have plenty of case studies and tips for growing successful campaigns on our blog.
For example, the time we got more than 40 demos in one week in mode Automatic pilot , without no advertising expense . Check out this case study here .
Tool features
Here's what makes LeadIn like no other:
Webhooks – Thanks to webhooks, you can link LeadIn to your other tools marketing automation . You can even integrate Zapier or Integromat to create a powerful multichannel growth flow with hyperpersonalization, for example by connecting your CRM to LeadIn.
Smart inbox – Let's face it, managing your inbox from LinkedIn is a real headache. Messages get lost, you're limited in filters, and everything is just ten times worse if you manage multiple accounts. Fortunately, LeadIn has a smart inbox dedicated to boost customer engagement and make sure you never miss a chat conversation again.
Dynamic customization – Through dynamic personalization, you can send messages to people based on a custom variable. This method goes far beyond personalizing the "first name" or "company name" that most people use. We have already generated over 42 demos with hyper-personalized sequence and managed to achieve an 83% response rate through dynamic personalization. Consult the article from the blog to learn more.
Security – At LeadIn, we take the security of your account very seriously. Unlike many other tools on this list, you have a dedicated, local IP address to use the tool. With most LinkedIn tools, your IP is different each time you log in, and LinkedIn can know if you are logging in from a different country each time. This is not the case with LeadIn, and you can rest easy knowing that your account is in good hands.
Email integration (multichannel) – LeadIn is compatible with Gmail, Outlook, and any SMTP mail server. After you have connected your email provider and created a signature to attach to your email, you can start usingthe automation of emails in your multichannel engagement sequences . The ideal option: it is also possible to choose to send your emails only to professional addresses (business) and thus avoid any problem of RGPD / CNIL . Click here to learn more about multichannel footage.
Discovery and verification of emails – LeadIn has its own crawler technology allowing to identify the professional email addresses of your prospects (unlimited). The tool also makes it possible to check real-time validity of these addresses to ensure that you contact only valid business email addresses and thus preserve the health of your domain name. This is a step that can be added to your multichannel sequences (click here for examples).
Advanced functions – Finally, LeadIn also uses some unique functions that you won't find anywhere else. Things like automatic profile warming, hyperpersonalization features built into the platform (images and gifs), an exclusion blacklist, automatic removal of oldest pending connection requests, and more .
And more – If you want to better understand why LeadIn works so well, you'll need to know the history of LinkedIn's automation tools. Discover here how to generate leads with the launch of a campaign.
Who is this tool for?
LeadIn was designed specifically for marketers , vendors , " growth hackers ", and the lead generation agencies / where the people managing multiple LinkedIn accounts .
With an easy-to-use dashboard and the ability to switch between accounts in a second, managing LinkedIn accounts has never been easier.
Tool prices
To discover the best all-in-one sales automation software, LeadIn starts with 97 € / account per month and has a 14 day free trial .
To benefit from this trial, just click on this link .
LinkedIn Sales Navigator
If you've been using LinkedIn to generate leads for a while, this question has probably popped up at some point in your head: Is LinkedIn Sales Navigator Worth It?
It's time to find out.
First of all, what does this tool offer?
Main features of the tool
With Sales Navigator, you benefit from the following main features:
Advanced search for prospects and companies – Find the right people and companies with research experience that provides more relevant leads.
Prospect recommendations – Discover the right people with personalized suggestions for you.
Advanced filtering, CRM integration and more – Automatically record leads and accounts you contact, record sales activities, log into your CRM, add personalized notes, etc.
Who is this tool for?
In short, LinkedIn Sales Navigator is for people who already actively use LinkedIn and want access to advanced features .
For people who want to leverage LinkedIn's network, increase their pipeline of relevant leads, and close more deals, Sales Navigator may be worth it.
We recommend the acquisition of this tool UNIQUELY if you are already familiar with LinkedIn and want to take it to the next level.
Combined with a LinkedIn automation tool ( like LeadIn ), you can also achieve serious results.
Tool price
Sales Navigator offers 3 pricing options:
Professional – 65 € / month.
Team – 95 € / month.
Business – personalized package.
The prices may scare some off, but if you regularly get new leads and close deals, the tool will pay for itself.
If you are still unsure, you can start with a 30 day free trial and cancel at any time.
We only recommend it if you are already actively using LinkedIn growth hacks as a source of lead generation .
Phantombuster
Phantombuster is a code-free LinkedIn automation and lead generation tool that helps businesses automate tasks on LinkedIn (and not only), to scrape audiences and reach their prospects.
The plugin can automate most of the actions you do on the web, schedule tasks, chain automations, and more.
It works for example with the following channels: LinkedIn, Sales Navigator, Instagram, Google and Twitter.
But we're focusing here on LinkedIn.
So let's see what the tool offers for this platform.
Tool features
Phantombuster is based on "ghosts" which can extract data and perform certain automated actions.
Here are some key features for LinkedIn:
LinkedIn Network Booster – Automatically send invitations and connect to a list of LinkedIn users.
LinkedIn Profile Scraper – Collect data (name, title, position, etc.) from a list of LinkedIn profiles.
LinkedIn Message Sender – Automatically send personalized messages to LinkedIn connections.
LinkedIn Auto Comment / Like – Automatically participate in certain posts from your connections and other LinkedIn users.
And more .
Who is this tool for?
Phantombuster offers a ton of different features and automation tips.
But it's best to use it with a LinkedIn automation tool of your choice.
If you are looking for new growth methods and want to save time by scraping profiles, you can extract your audience using Phantombuster and use a LinkedIn automation tool to reach them.
Tool price

Depending on your needs, Phantombuster can cost you between 0 and 900 euros .
Used in conjunction with a LinkedIn automation tool, this tool can save you a lot of time and keep you ahead of your competition.
Check out our prospecting strategy using Phantombuster to get an idea of what you can achieve with this tool.
TexAu
TexAu is a combination of two words: text and automating .
Like Phantombuster, TexAu is also a automation platform that helps you scale your business faster by extracting all the data you need and automating certain tasks to save time.
Likewise, the platform also offers automation for several different websites (including Facebook, Twitter, Instagram, and 6+ others).
But we're focusing here on LinkedIn, so let's start there.
Tool features

Here are some of the many key LinkedIn automation features that TexAu offers:
Retrieve the List of Saved Prospects from Sales Navigator – Extract profiles from a saved search in Sales Navigator.
Find an email from a LinkedIn profile – Extract emails from specific LinkedIn profiles.
Members of a LinkedIn group – retrieve all the members of a LinkedIn group of which you are a part. You can then contact them using another automated task.
Approve, like, comment or send a message automatically – Automate all these tasks for profiles or target messages.
And more.
Who is this tool for?

As with Phantombuster, you can use TexAu on its own, or you can scrape data, and use a separate LinkedIn automation tool for more effective prospecting.
However, TexAu's main focus is on getting all the information you need for your growth hacks. You can also check your emails thanks to its built-in data enrichment functions and use it as a CRM.
Is he better than Phantombuster? As with most things, it depends!
Fortunately, both are offering a 2 week free trial to find out.
Tool price

TexAu is offered from 25 € / month and can go up to 175 € / month for cloud-based support.
Which is not that bad. Especially if you plan to use it with a LinkedIn automation tool.
Note : We have had some success using TexAu as part of our growth-hacking tactic to steal audience from our competitors. Keep an eye out for our multichannel prospecting growth hack using TexAu in the future!
Dux-Soup
Dux-Soup is one of the most popular LinkedIn automation tools on the market, making it easy to connect and engage with your prospects.
But it's also a Chrome extension.
This means that it works in your browser and you need to have LinkedIn permanently open in your browser, in the background, for the tool to work. Surely it reminds you of other such tools …
However, Dux-Soup is also an extremely simple tool and offers great help for newbies who are just getting started with LinkedIn.
Let's take a look at some of its features to see if it's worth it.
Tool features

Dux-Soup mainly focuses on core lead generation activities and outreach functions. For example :
Lead management – Leave notes and tags directly on the LinkedIn profiles you want to target and contact them automatically.
Download Profile Details – Easily find LinkedIn profiles, their information and upload them to your CRM for easier lead management.
Prospecting, automation and more – Automatically visit profiles, send personalized messages, support connections, etc.
While most of LinkedIn's automation tools have these features as well, Dux-Soup also has a very responsive customer support team.
Who is this tool for?

Dux-Soup is a LinkedIn lead generation tool born out of necessity in 2016.
It is primarily aimed at teams and individuals looking for a simple and easy-to-use LinkedIn automation tool, right in their browser.
To support its users, Dux-Soup also regularly publishes new guides to help users better manage their automation.
Unfortunately, the tool does not offer many advanced prospecting and security features.
So what you see is what you get. It is primarily aimed at newbies who want to get started with automating their basic LinkedIn actions.
Tool price

Dux-Soup offers 3 price models:
Professional – € 10 per user / month.
Turbo – 35 € per user / month.
Take a look at the comparison between Dux-Soup and LeadIn .
Zopto
Zopto is a LinkedIn prospecting automation tool that primarily helps sales teams improve their lead generation efforts.
You can filter your ideal customers and run searches using LinkedIn Premium or Sales Navigator.
Tool features

Here's how Zopto helps businesses find their customers on LinkedIn and increase sales and conversions.
Customer filtering – With Zopto, you can filter from the tool by location, sector, company size, title, seniority level, etc.
Levels of engagement – Once you have selected a filter or your target audience, you can then match the level of engagement you want and activate the corresponding features, like invitations to connect, message sequences, free InMails, etc.
Lead management – Finally, you can track your leads on your live dashboard, which will provide you with detailed information and statistics about your LinkedIn campaign.
In summary, Zopto offers all the essential LinkedIn automation features, as well as some unique features like Twitter engagement, InMail messages, advanced reporting, and more.
Who is this tool for?
Zopto is primarily aimed at startups and sales teams looking to improve their lead generation and prospecting efforts.
To get the most out of the tool, you need to have a solid understanding of sales automation and LinkedIn.
Depending on your usage, you'll probably also need LinkedIn Premium or Sales Navigator.
Things can get expensive quickly, see below.
Tool price

Zopto offers 3 plans:
Staff – 180 € / month.
Growth – 330 € / month.
Agency – 850 € / month.
MeetAlfred
MeetAlfred , formerly known as Leonard, is a decent and versatile LinkedIn automation tool that primarily focuses on social selling campaigns.
Alfred allows you to better manage teams, create LinkedIn campaigns and automate certain approach sequences.
Tool features

Here are some of the main features of the tool:
Campaign manager – Create and run LinkedIn post sequences with all the classic personalization tags and action limits.
Alfred CRM – Manage your prospects and connections in the tool using its integrated LinkedIn CRM.
Email campaign sequences – Go beyond LinkedIn, connect your GSuite account and engage with your prospects via email too.
By using the tool, you also get real-time analytics on its dashboard to track your progress and gain actionable insights.
Who is this tool for?

MeetAlfred offers a bit of everything LinkedIn automation .
But most of the time Alfred is mostly used to drive engagement and manage conversions.
With this LinkedIn automation tool, you can even send bulk messages and multiple connection requests. But if you choose to do so, you should always keep in mind some of the top practices of security when it comes to LinkedIn automation.
With a very solid multi-purpose approach, this tool presents a mix of most of the features you will need for automated lead generation.
Tool price

Alfred offers 3 pricing options:
Essential – 25 € / month.
Advanced – 55 € / month.
Professional – 100 € / month.
WeConnect
WeConnect is a cloud-based LinkedIn automation tool that helps find, nurture, and close more deals.
Simply because it's cloud-based, it's already more secure than some automation tools.
But let's take a look at what the tool offers in terms of the main features.
Main features of the tool

WeConnect helps automate professional networking on LinkedIn with a personalized and hands-on approach.
Here is how it works:
Powerful campaign manager – Configure and run multiple campaigns based on a personalized target audience.
Intelligent response management – View and respond to your prospects in one place. Make new connections, discover new opportunities, support skills, and more.
Easy user management – Add other users to your account, get an overview of your LinkedIn campaign reports and control everything from a convenient dashboard.
Who is this tool for?
WeConnect is a very practical and easy-to-use LinkedIn tool for most people .
Specifically, it was designed for sales teams, marketers, recruiters and other busy professionals.
It is therefore not intended for everyone.
It has the necessary features, with a clean interface and ease of use.
But it doesn't have a lot of advanced features.
Tool price
WeConnect has a very simple pricing model.
It is 45 € per user / month.
And you pay as you go, depending on the number of users you manage.
Take a look at the comparison between WeConnect and LeadIn.
LinkedHelper
As indicated by his name, LinkedHelper is here to help you with sales and social marketing on LinkedIn.
The tool is Chrome browser based and helps find valuable leads without spending too much time or money.
You can use it to automate your work in LinkedIn, Sales Navigator, and LinkedIn Recruiter (Full & Lite).
Let's take a look at what it offers.
Main features of the tool
LinkedHelper helps you develop your network with a few key features:
Auto responder for LinkedIn – Choose a prospecting campaign, configure your models and launch the automatic responder to reach your 2nd and 3rd degree contacts.
Sending messages to members of a LinkedIn group – If you are a member of a LinkedIn group, you can collect information from other members and start sending messages to them, even if they are your 2nd or 3rd degree contacts.
Export and manage LinkedIn contacts – Using this tool, you can export your search results or import your own personalized CSV results into the LinkedIn tool for more specific targeting.
Who is this tool for?

The main use of LinkedHelper is to help its users automate several LinkedIn-based tasks like login, messaging, invite, recommend, etc.
With this, you can expand your social network to an unlimited number of contacts with just a few automated steps.
And then use the automatic mailing system to reach all your contacts.
People who want to automate some basic LinkedIn tasks can do so using LinkedHelper at a lower price than many other tools.
Tool price

You can try LinkedHelper for free or buy a monthly license for less than € 10 – € 15 / month.
However, to install the tool, you need to manually download it from their site and then import it into your browser.
For reasons of security , LinkedHelper is no longer available on the Google Chrome Web Store.
Find out why, and how LinkedHelper compares to LeadIn.
GrowthLead
GrowthLead is a cloud-based B2B social selling tool that allows you to expand your prospecting activities and grow your pipeline.
Here is how it works:
Tool features

GrowthLead follows a simple 4-step social automation process based on the following features:
Identify and find prospects – Use advanced filters to find your target audience on LinkedIn for your outbound process. Compatible with Sales Navigator and LinkedIn Recruiter.
Automation of prospecting – Create several prospecting campaigns for different market segments. With this feature, you can also manage multiple LinkedIn accounts.
Plan message sequences and get insights – From there, you set up your engagement process and observe campaign information with up-to-date metrics for your campaign.
Who is this tool for?
GrowthLead is primarily aimed at growth enthusiasts who have a specific marketing plan and know how to achieve it.
The tool helps you get there faster and adapts to your business needs.
Tool pricing

Here are all the pricing plans that GrowthLead offers:
Basic – 62 € per user / month.
Pro – 95 € per user / month.
Advanced – 135 € per user / month.
Made-For-You – Dedicated campaign manager, based on your needs. 450 € per user / month.
Prospectin
Prospectin is one of the most popular LinkedIn automation tools on the market, the reason being that it developed a few years after Dux-Soup under the same format (Chrome extension), in order to make LinkedIn automation popular on the French-speaking market when it was still little known.
Here is how it works:
Tool features
Creation of fixed predefined scenarios – Configure and run your campaigns in the form of predefined scenarios by filling in the messages. Leave your computer on and your account logged in to perform automatic actions.
Download Profile Details – Easily import LinkedIn profiles and upload their personal information available on their LinkedIn profile.
Prospecting, automation and integration – Automatically visit profiles, send personalized messages, support connections, etc. Perform basic automation actions.
The fact that it is an extension for chrome is therefore a huge drawback of the tool. Also, Prospectin is primarily intended for newbies or teams looking for simple and easy to use LinkedIn automation solutions.
And since it's a chrome browser extension, that means you'll need to have your LinkedIn open and your computer running for it to run in the background, not to mention the security holes for its users.
Right now, there are plenty of reasons you'll want to consider skipping your way to the next automation tool on LinkedIn.
Who is this tool for?
It is primarily aimed at people who are looking for a simple and easy-to-use LinkedIn automation tool, right in their browser.
Unfortunately, the tool does not offer many advanced prospecting and security features.
So what you see is what you get. It is primarily aimed at newbies who want to get started with automating their basic LinkedIn actions.
The main objective of the tool is to make part of the marketing automation accessible to all: automation on LinkedIn.
That is why the prices are more affordable.
Tool pricing
The company offers 4 different price options:
Standard – very limited functionality. Ability to visit profiles automatically and send them a connection request (maximum 10-15 per day).
Pro – 25 € per month and per user. Ability to automate simple LinkedIn actions like login request, using CSV for targeting. The only difference with the standard plan is the absence of daily quota on these basic actions.
Advanced – € 50 per month and per user. Include the above functionality by adding workflows and external integration. The proposed email export is a simple scrapping of the personal data of the accounts visited, when it is available.
Business – 150 € per month and per user. Includes most of the basic functions you might need in a LinkedIn tool (previous functionality and addition of a monitoring dashboard or even anti-duplicate functionality or multi-account management).
Take a look at the comparison between Prospectin and LeadIn.
Conclusion

Here we are !
Hope this list of tools has been helpful to you and you are ready to start your lead generation LinkedIn on autopilot.
However, it is important to note that no matter which tool you choose, you should always keep in mind the best practices of security when it comes to LinkedIn automation.
Ideally, your tool should also be optimized for the security and the growth .
And it turns out that LeadIn was designed with those two principles in mind.
The tool mimics the human behavior so that your account does not suddenly send 100 messages in 5 minutes (this is how many accounts are often suspended), and with a dedicated IP address , your profile activity sessions won't look suspicious to LinkedIn. Add the Free InMails and sending emails and LinkedIn can't stop you!
Now let's recap some of the most common questions about LinkedIn automation:
How to get more leads with LinkedIn automation tools?
You can use LinkedIn automation tools like LeadIn to automate your prospecting actions and convert your targets into prospects. To do this, you need to find the right audience for your niche and reach them with a personalized message.
When should I use LinkedIn automation tools?
Automating LinkedIn can save you hours of manual outreach and prospecting. With automation, you can send the connection request and follow-ups on autopilot while you work on your business. If you do this manually, you will need to enter the first name, company name, and other information for each prospect one by one.
What is the best LinkedIn automation tool?
We might be wet, but trust me LeadIn is the best and most secure LinkedIn automation tool on the market. Indeed it is cloud based , imitate the human behavior , uses unique features like Free InMails , the discovery , verification and sending emails on professional addresses verified , and uses hyper-personalization when engaging with your prospects. With this in mind, LinkedIn will see your activity on LinkedIn as if you were doing all of the above manually. We have also used it for our own prospecting campaigns and have been successful in generating thousands of leads.
How to get more leads on LinkedIn without getting banned?
LinkedIn doesn't like suspicious activity and spamming. So, to get more leads without getting banned, you need to: Use the advanced customization , the good ones cold message templates , plan your smart campaigns to make sure you're targeting the right audience, consider using Sales Navigator for more specific leads, and finally, use the right LinkedIn automation tool so your account isn't restricted.
Best LinkedIn Automation Tool for Marketing?
LeadIn was designed for marketing, sales, and growth hacking . You can create campaigns with follow-ups, hyper-personalize your messages, get key insights with marketing metrics, connect it with your company's CRM, find verified email addresses, send emails, and more.
What are the problems that can be solved by LinkedIn automation tools?
The main issues people face with LinkedIn are: not being able to manage everything from one place (an all-in-one growth stack), not being able to share campaign results, and dealing with privacy and security. With LeadIn , all these problems have a clear solution and your prospecting job becomes easy.
Is there an open-source LinkedIn automation tool?
Currently, no. There is no open-source LinkedIn automation tool. But we hope the above list of 10 LinkedIn Automation Tools has helped you decide which tool you want to use. If safety is your primary concern, do not hesitate to consult LeadIn .
What are level connections on LinkedIn?
On LinkedIn, there are 3 types of connections:
1st degree – People with whom you are already connected.
2nd degree – People connected to your 1st degree connections (mutual connections).
3rd degree – People connected to your 2nd degree connections (no mutual connection).
Once you have a clear idea of your target audience, you can filter based on the appropriate connection level.
Ready to start generating leads with the safest and most advanced LinkedIn automation tool on the market?
Click here to start your 14-day free trial.
From there, you can simply copy our top LinkedIn outreach strategies or head over to our blog, where we cover all the latest tips LinkedIn growth with which we continually generate engagement.
We also include the exact strategies we used, which we break down step by step, and share the exact templates we used that got us over 40 demos booked per strategy.
Also check out some of our lead generation resources on LinkedIn:
How to optimize your LinkedIn profile and make it a lead machine?
Getting started with LeadIn – How to launch your first campaign