LinkedIn prospecting tips: How to get started?
You have heard of the B2B sales prospecting on LinkedIn , that it is an increasingly popular and even now essential prospecting channel for developing your B2B activity? This is partly true, LinkedIn is the largest professional social network in the world with more than 22 million members in France ! (That is more than 65% of the working population, source: Digimind Blog )
LinkedIn is the ideal tool to promote your products, services and to find new prospects relevant to your business. For example, thanks to this channel, at LeadIn we have generated more than 12,000 leads for our clients representing more than 12 million euros in revenue.
If you still have a few questions or you don't know how to go about prospecting simply and effectively on LinkedIn, I give you some interesting tips in this article.
1. Optimize your LinkedIn profile
First thing to do when arriving on any social network is of course to create your profile and refine it. LinkedIn is no exception to the rule, I would even say that LinkedIn has more specificities because I recall it, it is a professional social network !
I will use my personal profile as an example to show you the basics:
This is the top of my profile on LinkedIn, golden rule visual prime , so your profile picture as well as your cover image must be attractive!
For your profile picture , you are not on Facebook, so choose a simple professional photo with a neutral background, a smile to make you want to contact you.
Write your first name as well as your last name , no nickname, just your first or last name. (it sounds like a boat, but it's amazing to see the number of people who don't)
For your profile title , indicate what you really do! No need to put your function cold all alone because it is not evocative. Focus on a description of what you do for your customers.
I also indicated the place where i live , everything depends on your activity it can be used more. In addition, due to the curious nature of Man, we like to know a lot of information about our interlocutors in order to have more confidence.
Small tips about the cover image on LinkedIn, the format recommended by the social network is 1536 x 768 pixels . If you are not an expert in graphics, you can use Can go which is easy to learn and offers banners adapted to LinkedIn. Similarly on this image, respect the graphic charter of your company, brand image and the speech that you mentioned in your title in order to quickly understand your universe to your visitors.
Engage visitors with a good summary
Below the upper part, we find the part " Info Of the profile which is also too often neglected by users.
This space is used to tell your story to your visitors and potential prospects. LinkedIn isn't just a professional online resume!
So you have to welcome the person by explaining who you are and what you do. This is exactly what you would do if you meet this person on a "real life" networking night.
Reading this short description of you , your business and your activity , your visitors will already make a first impression, will quickly identify what you do and what you can offer them. If your description appeals to you, there is a very good chance it will go further on your profile.
Also, at the end of this short introduction, don't forget the call-to-action to redirect visitors to the resources of your choice. Here in my case, I call for action at the end of my summary with two call-to-actions. The first to learn more about our services at LeadIn and the second to reserve a demonstration of our platform Twilead.
The call-to-action is used to show the visitor what you expect from him, as an additional example, we could find at the bottom of your summary:
" You have a project ? Book a video with me by clicking here »
Or "Do you want a free SEO audit of your website? Fill in the address of your website on this form to receive it »
Import its contents
Then by highlighting some of your publications, achievements or your products, it strengthens your expertise in your field of activity. (As long as it is enriching content of course)
Do not hesitate to place videos, presentations, mock-ups, links that can enrich your profile.
In file type, you can share your achievements, short presentations of your company, articles that you have written, pieces of white papers, studies …
Provide information on professional experiences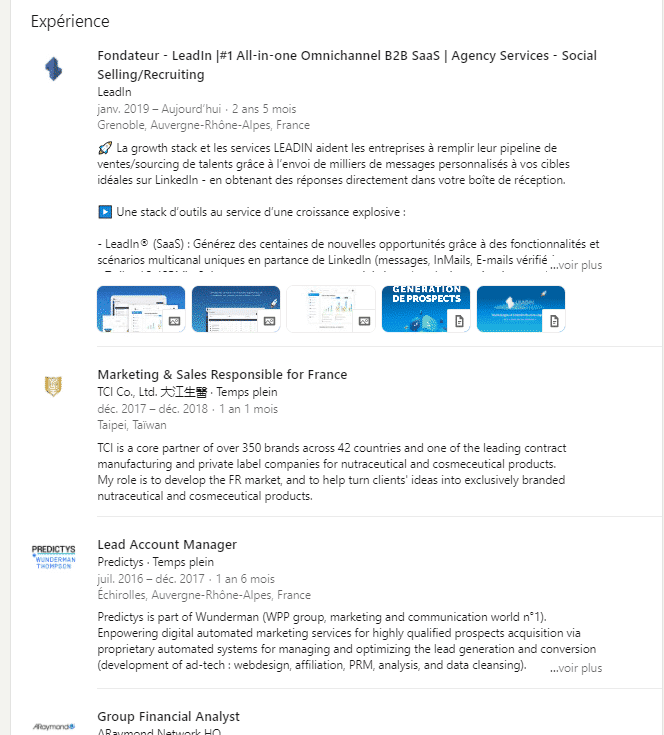 Not the most important part of developing your prospecting on LinkedIn, however, it is still better to work on it once and for all. As mentioned beforehand, Men are curious by nature, by browsing your profile, they will go and see your previous experiences. to judge your legitimacy .
So fill in this field seriously by mentioning the company, its activity, your role and your results during your visit to them.
Same recommendations for the "Training" and "Licenses and certifications" part, give serious information about your different experiences.
Here are the basics for optimize your LinkedIn profile . To go a little further and fully complete your profile, I invite you to read how to optimize your LinkedIn profile?
2. LinkedIn prospecting tips: Networking
As you could see it on my profile, today I have a rather large network on LinkedIn engaging a lot of visits by me. However, you can imagine it did not happen overnight. I have advanced and I continue to advance step by step by adding and exchanging with new people daily .
This is one of the most important tips for your LinkedIn prospecting, the concept of regularity ! We will detail this a little further.
Be careful, it is not enough to add random people on LinkedIn, on the contrary it would be counterproductive and will put you in the way, especially with the latest restriction on the number of weekly invitations on LinkedIn. Now limited to 100 login invites per week . That's why you have to select the people you invite! Remember that on LinkedIn, a very large majority of subscribers are little or not active on this social network, so you have to pay attention to identify active members to maximize your chances of conversions.
Since your profile is now attractive, you have to go and sympathize with the other members of your network. (Once again, like in a networking evening)
So of course, as in "real life", you have to show respect for others and build healthy relationships with your network.
If you are a salesperson, I'm not teaching you anything, you know very well that you should not greet and then unpack your commercial offer to sell your product. You have to know how to listen to your client, to exchange with him on his needs and go touch the "emotional" side.
In summary, if your outreach message is too commercial, all previous efforts will be wasted. It's a bit raw but it's reality, put yourself in your prospect's shoes, when you receive an invitation with a "Hello FIRST NAME, 10-line sales pitch", are you really reading the message? Or do you do like 95% of people and don't respond to this type of approach?
The trick to prospecting on LinkedIn is to start with you position as an expert listening to the needs of others . Once again, what are you doing in the field, right?
There are different ways to contact members of the LinkedIn network. For example for cold prospecting find 3 tips for writing an effective message .
3. Disseminate high added value content on LinkedIn
Same principle as for the establishment of a content strategy to work on your SEO on your website or for your business pages on various social networks, you can do the same on your personal LinkedIn profile.
To write a post, nothing could be simpler, go to your home page and click on " Start a post ". It's very easy to share news, information that you find relevant to your audience or other content. As support, you can use text, include external links, image, photo and even video!
If you don't have the time to write dedicated articles, re-use the ones you post on your blog!
Sharing this type of content that appeals to your audience is key to asserting your status as an expert and expanding your network because people who see this content on their " news »Can interact with it by liking, commenting or even by sharing the latter giving you more more visibility and sending from good signals to LinkedIn so that the algorithm puts you forward.
You can also be active within private group on LinkedIn by participating in discussions, contacting members who are not part of your network is one of the advantages of groups.
Be careful, however, in groups, you really have to post very high added value content for readers and not just to advertise your products! This could be interpreted as spam because yes, no one goes to a private group to see a whole bunch of people selling their product one after the other.
For groups, I recommend entering private groups on Facebook, it works very well. In addition, on this last point, at LeadIn we have launched our own group dedicated to the best social selling hacks & practices on LinkedIn. To join it, just click on " The LinkedIn Stack: Best Social Selling, Tools & Automation Hacks "
To find out which social networks are relevant in addition to LinkedIn for your B2B prospecting, you can take a look at this article: What social networks are used for its B2B acquisition strategy?
4. Be regular
As mentioned earlier, the best tip is to be regular and correct your mistakes because yes, as in all areas of life, you will make them at the start and that's normal! You just need to know how to react well!
Now that you have the basics of prospecting on LinkedIn , all you have to do is put your strategy in place and get started!
Add a publication schedule in your schedule and place a few small actions each day to do on LinkedIn, such as taking 5 minutes to reply to my messages, adding a few new relevant contacts per day, posting 1-3 posts per week …
These are really the basics of prospecting on LinkedIn , with this you will already be more effective than 70% of the members of this professional network. However, if you want to improve your chances and further optimize your prospecting on LinkedIn. I wrote the complete guide to B2B acquisition on LinkedIn in 2022 .
You may also be interested in these articles